Vietnam, China boost cooperation in preventing drug-related crimes
Thứ Sáu, 02/06/2023, 21:44
The Ministry of Public Security of Vietnam and the Ministry of Public Secirity of China jointly held a ceremony to inaugurate a new Border Liaison Office (BLO) located in Jingxi town, Guangxi and had talks on preventing and controlling drug-related crimes on May 31st, 2023.
At the ceremony, Deputy Director of the Guangxi Zhuang Autonomous Region Public Security Department Luo Weidong emphasized that the establishment of the Jingxi Border Liaison Office demonstrated the determination and effort of the Anti-Narcotics Bureau under Chinese Ministry of Public Security in general and the Guangxi Zhuang Autonomous Region Public Security Department in particular in preventing and fighting drug-related crimes from afar.

He also underlined that the BLO will play a key role in cross-border information exchanges on drug crimes as well as other crimes such as human trafficking, illegal wildlife trade, contributing to ensuring border security and enhancing people's prosperity in border area.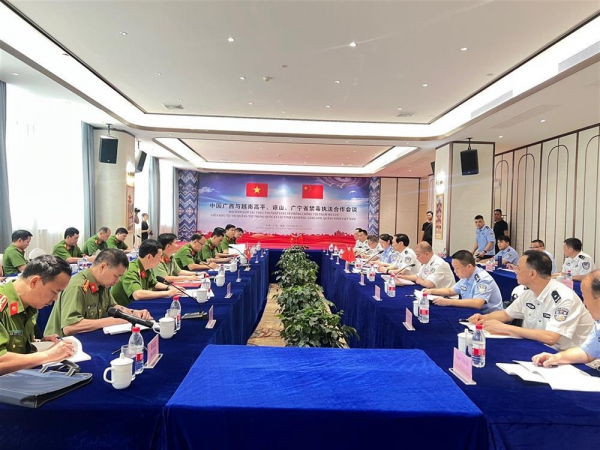 At the ceremony, Colonel Hoang Tam Hieu and Mr. Zhang Daoming cut the ribbon to mark the establishment of the Jingxi BLO.

* After the inauguration ceremony, the two delegations had talks on drug-related crimes prevention and fighting in Guangxi Zhuang Autonomous Region and Vietnam's border provinces including Cao Bang, Lang Son, Quang Ninh.
At the talks, delegates from Cao Bang, Lang Son and Quang Ninh Provincial Police Departments (Vietnam) emphasized the importance of information sharing, periodical meetings and joint investigation of cross-border criminal cases between the two countries' law enforcement forces.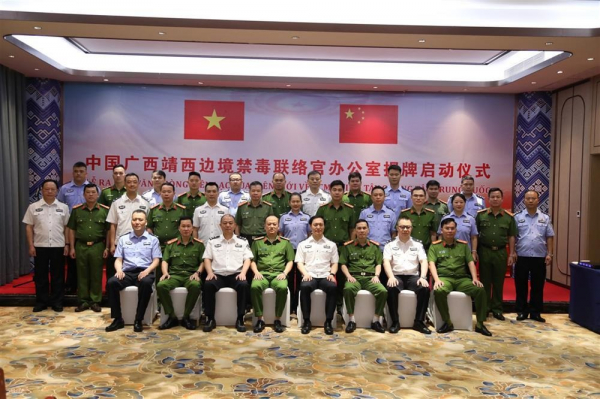 Via the system of BLOs along the Vietnam – Quangxi, China borderline, the two sides need to actively cooperate in investigating criminal cases as well as detecting and arresting wanted criminal fugitives as well as create favorable conditions for the other side to effectively prevent and fight crimes, bringing peace, prosperity and happiness to people of the two countries living on both sides of the shared border.