Outstanding projects in student start-up contest recognised
18:43 29/03/2022
Prominent start-up projects from students were honoured at the final of a contest held on March 27 as part of the 2022 National Startup Day for Students.
On the afternoon of March 27, the National Startup Day for Students in 2022 was closed.
The organizers awarded 20 prizes for excellent projects of students, including 2 First prizes, 4 Second prizes, 6 Third prizes and 8 Consolation prizes.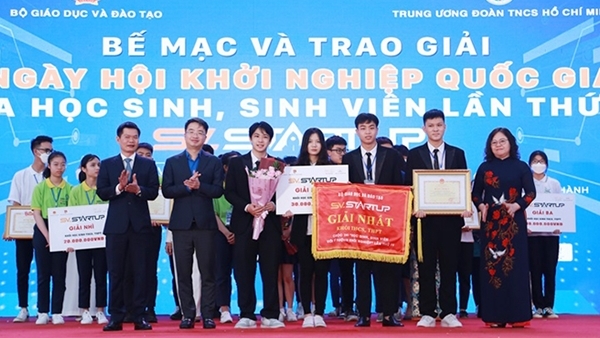 Speaking at the closing ceremony, Deputy Minister of Education and Training Ngo Thi Minh assessed that the participating projects all showed novelty, creativity, professional presentation, good quality.
The projects are all active initiatives in different fields of life, including science and technology, services, tourism, agriculture, forestry, education, healthcare, finance, banking.. .
Deputy Minister of Education and Training Ngo Thi Minh wishes that students will continue to nurture their passion, invest their efforts and intelligence to complete projects as suggested by the investors.
She affirmed that businesses and investment funds are always interested in and continue to support projects so that students can nurture their dreams.
Earlier, Prime Minister Pham Minh Chinh has stressed the need to improve the start-up movement in both quantity and quality so as to soon make Vietnam become a strong country in this field.

This should be an important task of the whole political system, but not a single ministry, sector or locality, Chinh told the fourth National Start-up Festival for Students, which opened in the northern province of Vinh Phuc on March 26.

According to him, Vietnam ranked 44th out of 132 countries and economies in the Global Innovation Index 2021. The country kept its first position among the 34 lower-middle income economies in the index.

Currently, more than 1,000 organisations are capable of supporting start-ups, and 100 percent of training institutions have plans to support students in starting a business. The World Bank also assesses Vietnam as one of the few East Asian countries investing in innovation, with a higher number of patents and innovations than previously expected, he stated.