PM chairs national conference on digital transformation
Thứ Tư, 12/07/2023, 23:23
Prime Minister Pham Minh Chinh chaired the 6th meeting of the National Committee on Digital Transformation and a conference on digital transformation tasks in Hanoi on July 12.
Addressing the hybrid national event, the PM, who is also head of the national committee, said digital transformation is an inevitable trend that is taking place around the world, and Vietnam could not be an outsider.

Digital transformation is a new, difficult, and sensitive job requiring resources, time, and other necessary conditions, he noted, adding that it was identified as one of the focal tasks by the 13th National Party Congress while the Government is also implementing Plan 06 to carry out digital transformation tasks.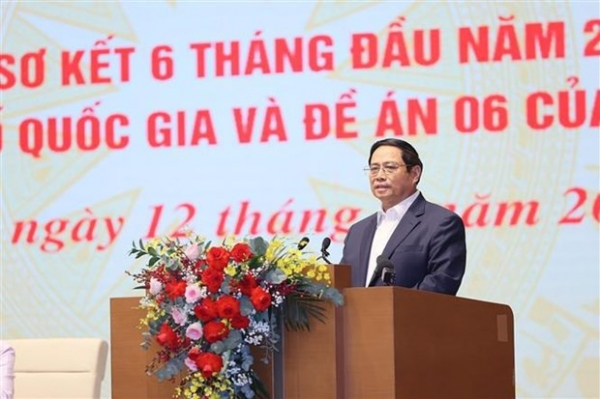 The Ministry of Information and Communications reported that as of June 2023, three out of 30 ministries, sectors, ministry-level agencies, and governmental agencies along with 36 of the 63 provincial-level localities had issued action plans to implement the national strategy for developing the digital economy and digital society by 2025, with a vision to 2030. Twenty-nine localities had issued plans to promote digital transformation and cashless payment at educational and health establishments. Thirty-one localities had released action plans to encourage small- and medium-sized enterprises to conduct digital transformation.

Meanwhile, digital infrastructure has been developed comprehensively. Great strides have also been recorded in information safety, cyber security, and the development of digital human resources, digital skills, digital citizens, digital enterprises, and digital payment.
According to the working group on the Plan 06 implementation, since the national teleconference and the 5th meeting of the National Committee on Digital Transformation on February 25 this year, ministries, sectors, and localities have been working hard to implement the PM's directions. The working group has been urging ministries and sectors to perform related tasks so as to form a civilised public administration and contribute to socio-economic development and crime fight.

The group also highlighted the Ministry of Public Security's digitalisation of data from the judicial sector and the labour, invalids and social affairs sector to reduce administrative procedures. Online public services have also been stepped up, receiving support from the public and helping to save more than 2.5 trillion VND (105 million USD) for the State each year.

However, the working group also pointed out certain shortcomings in the implementation of the national digital transformation strategy and Plan 06, including the shortage of strong directions from leaders of grassroots units, many ministries and sectors' incompletion of administrative procedure simplification, unstable operations of the National Public Service Portal at certain points of time, and some localities' poor performance in handling administrative procedures for people and businesses.