UNDP, Japan help improve health care system in five localities
Thứ Năm, 17/11/2022, 16:56
PSNews - A grassroots telehealth program using the software "Doctor for Everyone" was implemented recently thanks to the cooperation of the Ministry of Health, the United Nations Development Program (UNDP), and the Japanese Consulate in Da Nang.
The Ministry of Health, the United Nations Development Program, and the Japanese Consulate in Da Nang kicked off the implementation of a grassroots telehealth programme using the software "Doctor for Everyone" in five provinces including Thua Thien Hue, Quang Ngai, Binh Dinh, Ca Mau and Dak Lak with a launching ceremony in Hue City.
The digital application "Doctor for Everyone" was jointly developed by UNDP and the Electronic Health Administration of the Ministry of Health in December 2020. This software is also being deployed in 537 grassroots health facilities in three provinces Ha Giang, Bac Kan, and Lang Son.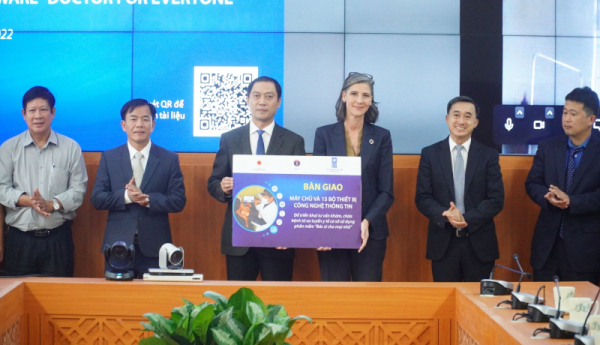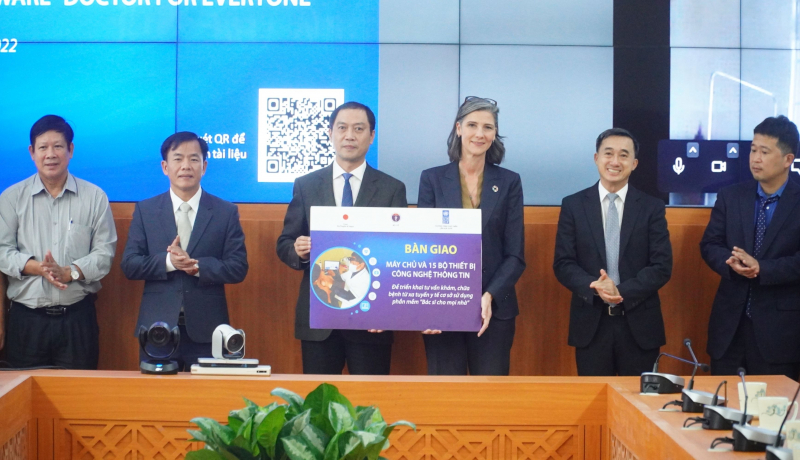 In the implementation phase in Thua Thien Hue, Quang Ngai, Binh Dinh, Ca Mau and Dak Lak, more than 2,000 healthcare staff at more than 800 grassroots health facilities will be trained and connected to provide telemedicine services. These five provinces have a combined population of around seven million people.
Based on a website platform and smartphone application, this solution will allow people in rural locations to gain access to quality medical examination and treatment services in their district, thereby minimizing overcrowding in province and city-level health facilities. Additionally, it enables district and commune healthcare personnel to consult with peers and enhance their professional skills.
This is an activity of the Government of Japan funded project "COVID-19 Response for Strengthening Vaccine Access and Health System Capacity". This project is providing these five provinces with information technology equipment, including a server located at the provincial Departments of Health, 15 sets of desktop computers, cameras, and loudspeakers for 15 commune health stations, and training on how to use and implement telehealth using the "Doctor for Everyone" software.
Speaking at the ceremony, Deputy Minister of Health, Prof. Dr. Tran Van Thuan directed "the Department of Health Care Management to act as the focal point to work with UNDP and the five Departments of Health to develop a detailed plan, allocate human resources, time, and organize training courses to urgently deploy this digital grassroots telehealth programme."
"The United Nations Development Programme will continue to work with the Viet Nam Administration of Medical Services, allocating resources and time to urgently deploy effective this grassroots telehealth programme across the five provinces as a model for the entire country."
At the ceremony, the UNDP Resident Representative in Viet Nam, Ms. Ramla Khalidi, affirmed "UNDP's readiness to further deepen its strategic partnership with the Ministry of Health and the Provincial People's Committees of five provinces, contributing to a strengthened healthcare system at the grassroots level, using innovation and digital solutions." "Under another project entitled Peace Village, ten storm-resilient commune health stations will be built and upgraded, and a telehealth function room will also be set up at each commune health station in A Luoi District, Thua Thien Hue province," she added.
Mr. Tran Van Phuong, Thua Thien Hue Provincial People's Committee, stated, "This programme will soon complete the roadmap for Digital Transformation of the health sector in particular and the National Digital Transformation Program to 2025, with an orientation to 2030 of the Government in the province in general. It will contribute to the successful implementation of Resolution No. 54-NQ/TW dated December 10, 2019, of the Politburo on construction and development of Thua Thien Hue province to 2030, with a vision to 2045."
"The cooperation in the field of health and medicine is extremely significant in the relationship between Viet Nam and Japan. In particular, in the years since the outbreak of the COVID-19 pandemic in 2020, the two countries have actively cooperated and supported each other focusing on COVID-19 prevention measures such as Japan's aid of seven million doses of vaccine to Viet Nam and a grant cooperation project to provide medical equipment.
In contrast, from Viet Nam, the Vietnamese government donated 2 million medical masks to Japan," said Mr. Shimonishi Kiyoshi, Deputy Consulate General of Japan in Da Nang. He stated that "establishing the grassroots telehealth program across the five provinces of Viet Nam, including Thua Thien Hue province, while completing the legal framework to implement these measures is extremely meaningful."