Vietnam, RoK boost cooperation in technology, innovation
Thứ Sáu, 23/06/2023, 22:28
The State Agency for Technology Innovation (SATI) under the Ministry of Science and Technology on June 22 signed a Memorandum of Understanding (MoU) on strategic cooperation in advanced technology development with the Korea Evaluation Institute of Industrial Technology (KEIT).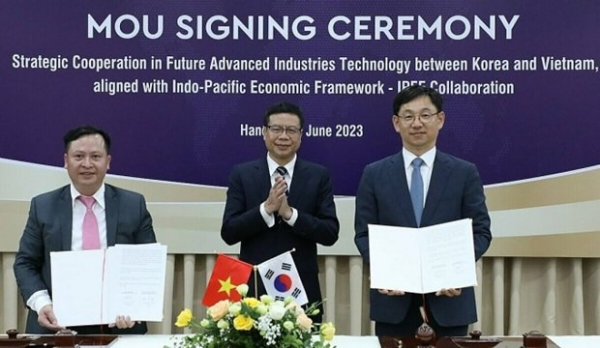 The signing of the MoU took place on the occasion of the State visit to Vietnam by President of the Republic of Korea (RoK) Yoon Suk Yeol. It is part of the Indo-Pacific Economic Framework (IPEF) and a solution to promote cooperation in technology, innovation, and green transformation towards Vietnam's goal of net zero emissions by 2050.
At the signing ceremony, Deputy Minister of Science and Technology Le Xuan Dinh said as Vietnam and the RoK upgraded their relations to a comprehensive strategic partnership in December 2022, the MoU signing will not only bring great benefits and potential to the science and technology industry of the two countries but also create economic-social-environmental impacts when the joint research results are widely applied.
SATI Director Nguyen Mai Duong said that Vietnam is promoting activities of studying, trading, and transferring new, high-tech, and advanced technologies with partners; strengthening international cooperation with organisations and individuals abroad in R&D activities, technology transfer, human resource training, and innovation.
Therefore, cooperation between the Vietnamese and Korean agencies is one of the solutions to promote the flow of knowledge and R&D cooperation, contributing to improving the technological capacity and productivity of enterprises, and the quality, and competitiveness of products.
Earlier the same day, SATI also signed an MoU with the Korea Institute for Advancement of Technology (KIAT) to promote cooperation activities in technology connection, research, and development, innovation for businesses of the two countries, and join the international innovation network.