Vietnamese students bag medal at Microsoft office specialist world championship
Chủ Nhật, 06/08/2023, 22:54
PSNews - Vietnamese students won one silver medal and two bronzes in the Microsoft Office Specialist World Championship (MOSWC 2023) and the Adobe Certified Professional World Championship 2023 (ACPWC 2023) held in the US on August 2.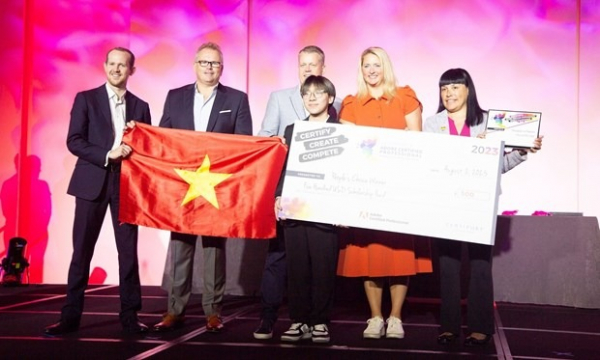 The silver medal goes to Nguyen Thi Thanh Truc from Vietnam Maritime University. Meanwhile, Dang Thi Minh Anh from Le Hong Phong High School for the Gifted in Nam Dinh, and Hoang Thuy Linh from the Foreign Trade University won bronze medals.
Nguyen Tuan Dung and Do Thanh Viet, two 8 graders of Nguyen Tat Thanh Secondary and High School in Hanoi, were listed in the top 4 and top 6 of MOSWC 2023.
Bui Minh Tra from Chu Van An High School in Hanoi was named in the top 8 of ACPWC 2023, while Ngo Hoang Phu from Van Lang University won an award voted by the audience.
These results have brought the total number of medals won by Vietnamese students in the two competitions during the last 14 years to 21 medals, including four gold, four silver and 13 bronze medals.