Belgian Chamber of Representatives passes resolution in aid of Vietnamese AO victims
Thứ Tư, 11/10/2023, 19:24
The Belgian Chamber of Representatives on Thursday approved a resolution in support of victims of Agent Orange/dioxin in Vietnam with absolute vote.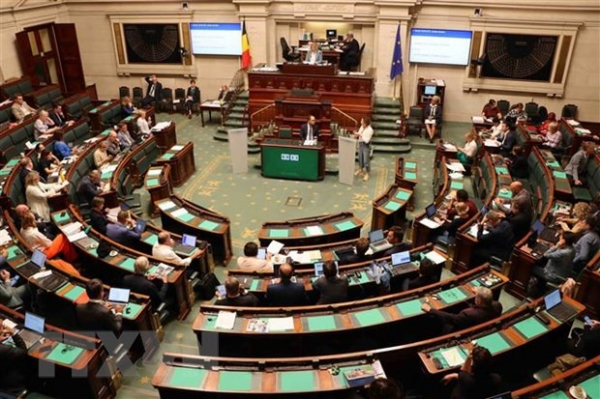 The Belgian Chamber of Representatives on October 5 evening (local time) passed a resolution in support of the Agent Orange/dioxin victims in Vietnam, with absolute approval votes.
At the plenary session, federal parliamentarian André Flahaut, who in December 2021 submitted to the Belgian Federal Parliament a resolution on supporting Vietnamese victims of Agent Orange/dioxin, emphasized nearly 50 years since the war ended, despite declarations and agreements, the consequences of Agent Orange in Vietnam have remained unresolved.
The lawmaker recounted his visit to Hoa Binh Village in Vietnam where he witnessed the devastating effects of Agent Orange on the Vietnamese people across generations. He underlined the need to build a "livable" future for future generations, especially in Vietnam.

Lawmaker Michel De Maegd said that the Vietnamese Agent Orange victims need long-term support because many areas have been contaminated with chemical toxins sprayed by the US troops during the war, and there is a need for soil and water decontamination. The Agent Orange issue in Vietnam has also caused ecological consequences.          
Ms. Els Van Hoof, Chairwoman of the Foreign Affairs Committee of the Belgian Chamber of Representatives, said that it is necessary to protect victims of Agent Orange as millions of Vietnamese people are exposed to Agent Orange/dioxin and are still facing the long-term effects of the toxic. She said the approval of the resolution holds significance as this year marks the 50th anniversary of Vietnam-Belgium diplomatic ties.
She called for protecting Agent Orange victims as millions of the Vietnamese people have been exposed to this chemical toxin during the war and continue facing long-term consequences such as illness, disabilities and contaminated land.
After the resolution was passed, Flahaut sent a letter to the Vietnamese Embassy expressing his joy that the Belgian Parliament has become the world's first legislature to approve a resolution supporting the Agent Orange victims of Vietnam.
On the occasion, he confirmed his commitment and determination to act for the women, men and children who are Agent Orange victims.