Vietnam's rescue team discovers 15 sites with quake victims in Turkey so far
Thứ Hai, 20/02/2023, 18:52
The rescue team from the Vietnam People's Army (VPA), in coordination with Turkish authorities, continued searching for earthquake victims in Hatay province on February 19.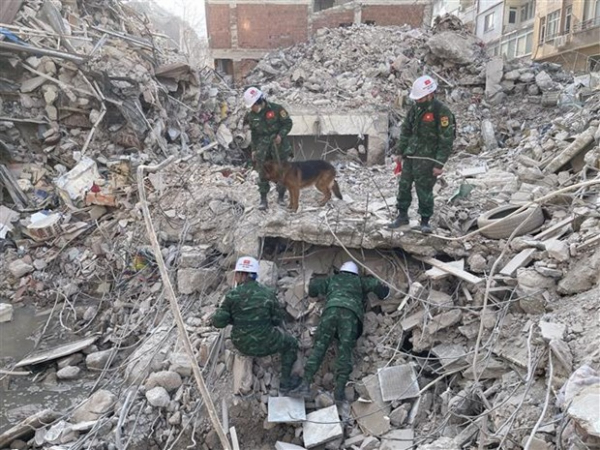 The team operated at some locations in Cebrail commune of Antakya, the capital of Hatay.

At each location, they discussed search plans with the local rescue force and then utilised sniffer dogs and sapper equipment to search the places where there were possibly victims under the rubble.

Among those places, they detected a dead victim inside a collapsed building and then handed over the site to local rescuers to pull the body out.
As of February 19 evening (Vietnam time), the VPA team had searched 31 locations in Antakya, helping discover 15 sites with victims trapped under the rubble, including two places with signs of survivors. They handed over the sites to the local rescue force to bring 28 dead bodies out.

During that process, they coordinated with the Bahraini team to find out one site with eight corpses and with the Mexican team to find out two other places with victims.

Besides, the Vietnamese team has also assisted three families to move household goods out of the rubble.

As of late February 19, the 7.8-magnitude earthquake in Turkey and the neighbouring Syria had killed more than 46,000 people, including nearly 40,700 in Turkey.