Expats excited to get vaccinated against COVID-19
10:25 08/08/2021
A number of foreigners residing in Ho Chi Minh City, the epicentre of Vietnam's latest COVID-19 outbreak, cannot hide their excitement after receiving their initial vaccine shot to help protect themselves and the wider community.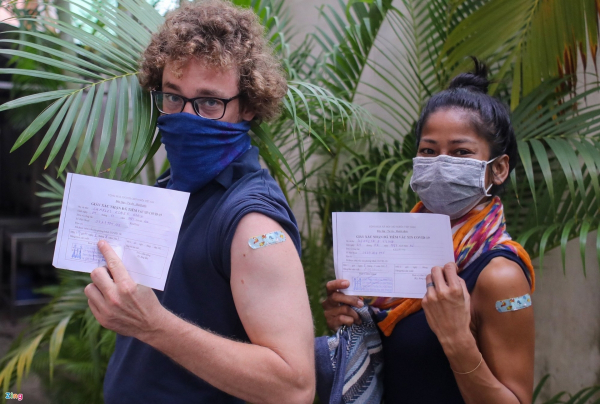 At 9 a.m. Chuck Marion, American citizen, and his girlfriend headed to the COVID-19 vaccination site at a school on Thao Dien street in Thu Duc city. Both were quickly guided by local medical staff to complete their health declarations, have their health checked, and get vaccinated.
"I'm so happy. I can't even stop being overjoyed when I know I'm going to get a COVID-19 jab," Marion smiled, chatting to medical staff and doctors.
Marion has been living in Vietnam for almost a decade and is currently working for a foreign firm specialising in supply chain solutions.
He is one of many foreigners living and working in Ho Chi Minh City that is benefitting from the southern city's extensive vaccination campaign amidst ongoing COVID-19 fears looming large over the local community.
Marion told news outlet Zing that he doesn't feel impatient knowing that he isn't in any priority groups, such as healthcare workers, anti-virus forces, or those in high-risk areas, that received the jab first.
"I know I have to wait for my turn. I feel quite comfortable. And now, it's time for me to get vaccinated," described Marion.
After a while, the couple left the post-injection room, smiling and showing their vaccination certificates.
"Vaccination is a must, but I know there are lots of people in the US who refuse to get vaccinated though the vaccine is available. I just can't understand it," Marion added.
Along with Marion and his friends, many foreigners in the southern metropolis immediately phoned and informed their family about the good news upon finally holding the vaccination certificate in their hand.
Donald Tan, a Singaporean, shared that he was not worried about negative information regarding vaccinations surfacing on social media. He stated that his work has not been affected much by the pandemic because he is able to work from home, although he still wants to be vaccinated to protect his health.
"I am not worried at all, everything is fine. The only thing I fear when I go for injections is that there are lots of people coming and waiting for a long time in large crowds. But staff here work quickly, everything is OK, and I do not have to wait so long," Tan recalled.
He revealed that he would return to his hometown and do lots of travelling after getting both jabs.
Unlike Marion and Tan, Simon Stansfield, an Australian, suffers from some heart-related problems and has waited a long time for the vaccination.
"I expected to get the jab early because I have underlying health conditions, some cardiovascular problems. So I tried to get information and register as soon as I could. I knew that many other people should be given priority, so I waited patiently," Stansfield told Zing. 
Stansfield has been living in the country for eight years. He is currently running a chain of coffee houses at airports based in Phu Quoc, Cam Ranh, Da Nang, and Noi Bai. The latest COVID-19 outbreak has dealt a serious blow to this business, and without getting vaccinated he would be unable to travel or meet his counterparts.
He recalled that as soon as he received an SMS notifying him about his upcoming vaccination, he was very happy. He had always hoped to get jabbed early to protect his health and family and subsequently return to work.
"Honestly, I felt relieved when I heard it's my turn. My wife has been vaccinated, our son is still small, so this is how I could protect my family's health. I am very grateful to be vaccinated," Stansfield said excitedly.
Many foreigners are in a similar position to Stansfield and have longed to get inoculated in order to protect themselves and the wider community.
Johan Bokhari, a Malaysian, shared that he was happy that the number of people being vaccinated has increased daily.
"I am aware that there are many people queuing for vaccinations, this means we are going closer and closer to herd immunity," he told Zing.
Bokhari added that he felt at ease when being vaccinated against COVID-19. However, he remained worried about his relatives and friends in Malaysia, where the latest outbreak of COVID-19 is spreading far and wide.
"I am grateful and feel lucky to get vaccinated in Vietnam this time. I also miss Malaysia and hope the pandemic will come to an end soon so I can return to my hometown to visit my family," Bokhari confided.