Economic recovery in 2022 focuses on restoring aggregate demand
12:59 12/01/2022
An array of programmes and overall solutions have been adopted by the Government aimed at accelerating the country's economic recovery process amid the COVID-19 pandemic, with one of the important issues being how to restore aggregate demand.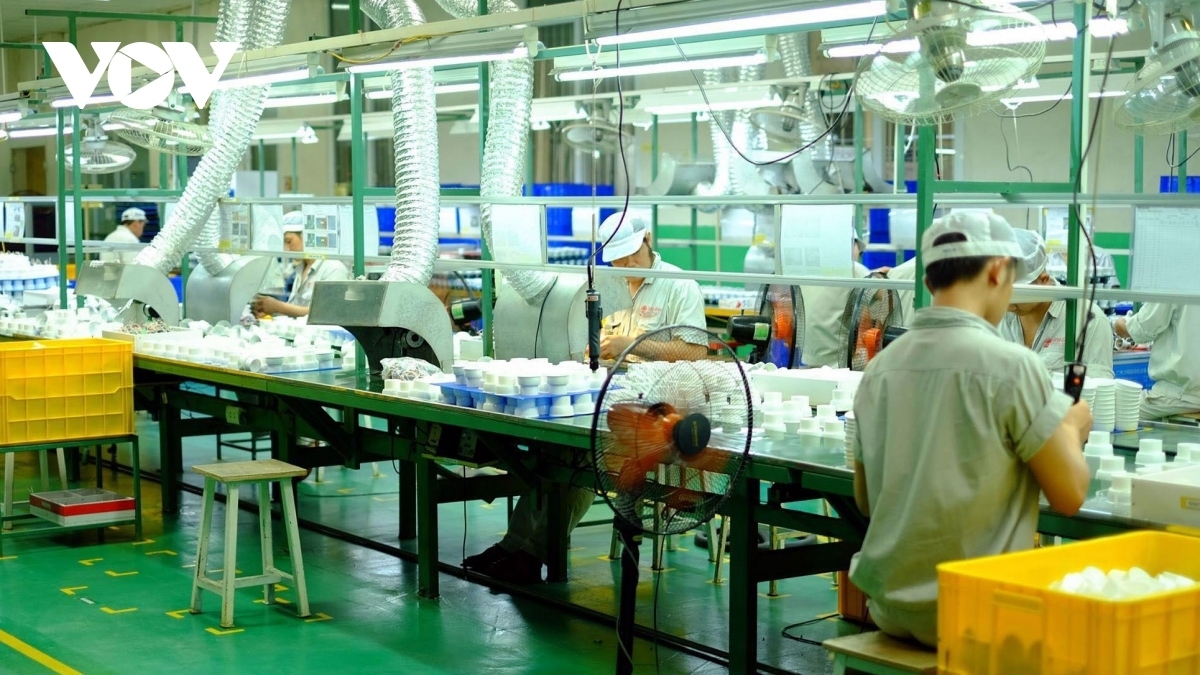 Under Government Resolution No. 01 on economic management measures for this year, one of the highlights to be emphasised is the synchronous and effective implementation of the Master Program on COVID-19 pandemic prevention and control. This is along with socio-economic recovery and development to support production and business recovery, the circulation of goods, connection of labour supply and demand, the promotion of exports, and domestic consumption.
Most notably, promoting domestic consumption has particularly been emphasised. Even for the first time in recent years, a specific goal has been set out by the Government, which is to strive for a 7% to 8% growth rate of total retail sales of consumer goods and services.
This figure was regularly achieved by the nation before the outbreak of COVID-19. When the pandemic hit, this index endured a sharp drop. In line with this, 2020 saw the total retail sales of consumer goods and services, excluding the price factor, drop by 1.2%, while it soared by 9.5% in 2019. During the 10-year period from 2011 to 2020, this represents the lowest achieved number.
In 2021, the figure saw an even greater decline of 3.8%, even dropping by 6.2% if excluding the price factor.
This decrease in purchasing power is not only occurring because of difficult goods circulation, but also due to people's income being significantly affected by the pandemic.
According to the figures provided by the General Statistics Office (GSO), last year 24.7 million people were negatively impacted by COVID-19. Of the total, 2.3 million people lost their jobs; 12.4 million people had to temporarily halt working because their businesses were forced to suspend production and business activities to implement social distancing measures; and eight million people had their working hours cut and had to work alternately.
Furthermore, up to 16.9 million workers had their income reduced, leading to lower consumption and lower aggregate demand overall.
This fall in aggregate demand will not contribute to creating a driving force for production and business, thereby affecting economic growth. The decrease in aggregate demand can be viewed as one of the major reasons why economic growth in 2021 stood at a mere 2.58%.
In fact, domestic consumption, exports, and public investment can all be considered as the three major contributory factors which has promoted economic growth.
Amid exports still achieving positive results, a large contribution to export growth came from FDI enterprises, with export growth yet to accurately reflect its overall contribution to the national economy. Indeed, public investment is showing signs of slowing down as domestic consumption goes backwards.
As a means of ensuring economic recovery in the year ahead, the three growth pillars must accelerate together. Compared with the other two pillars, domestic consumption must speed up faster to be able to create a solid "tripod" for the local economy.
In his speech during a Government conference held with localities to implement the 2022 Plan, Prime Minister Pham Minh Chinh underscored the necessity of restoring the aggregate demand of the economy.
A score of measures mentioned by the PM are to launch numerous schemes aimed at stimulating domestic consumption, expanding the domestic market, and enhancing tourism stimulus in accordance with the pandemic situation.
In the Socio-Economic Development and Recovery Program that the Government plans to carry out this year and into 2023, although the focus of policy is on both the demand and the supply, it remains clear that demand plays an important role.
According to the Ministry of Planning and Investment, the agency that drafts the Socio-Economic Recovery and Development Program, the effective implementation of its support policies will bring positive impacts, thus stimulating demand. This is in addition to expanding production and business of enterprises, providing jobs for workers, and creating the foundation and driving force for economic development.
By implementing this programme, the economic growth rate will expand by 2.9 percentage points this year, and by a further 0.2 percentage points in 2023.
This means that, although restoring aggregate demand is not everything, it certainly has great significance for economic recovery in the time ahead.