RCEP brings favorable condition to post-pandemic economic recovery
23:03 04/01/2022
The Regional Comprehensive Economic Partnership (RCEP) came into force as of January 1. This is the first agreement in which ASEAN plays a central role, leading economic cooperation in the region.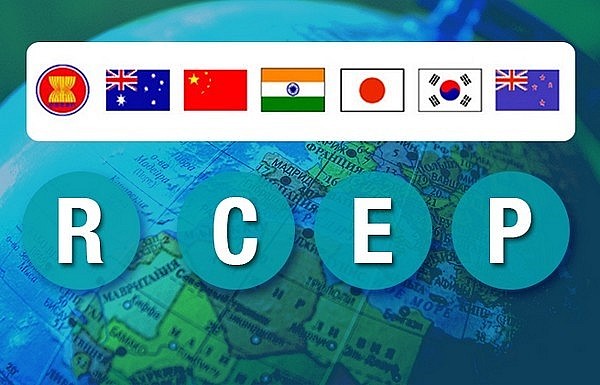 According to reputable experts, RCEP is expected to provide a fresh impetus to enhancing trade activities and boosting economic recovery in the post-pandemic period. In detail, the agreement helps provide  a stable and long-term export market for the nation and other ASEAN member states, creating a legally bidding foundation for an equal trade environment within the region.
Despite this, experts also hold the view that along with opportunities, the RCEP also poses challenges, including tougher competition for local products and services due to the similar structure of products in other countries, coupled with Vietnamese independence on imported materials for production.
The nation's deeper international integration indicates that the country has a rising capacity to participate in newly-established value chains within the region with its strong reform of administrative procedures and efforts aimed at improving the investment environment, they said.
They explained that the enforcement of the RCEP will not bring about a shock in tariff cuts for the Vietnamese side as the nation has long experience in processing tariff liberalisation with ASEAN over the past 20 years and with the five partners over the last 15 years.
Furthermore, the deal is hopeful of bringing about greater opportunities for Vietnamese firms, especially small-and medium-sized enterprises, to become involved  in new supply chains possibly created by the RCEP.
The RCEP is an integration priority of the ASEAN and forms a market consisting of 2.2 billion consumers and a total GDP of approximately US$26.2 trillion, accounting for roughly 30% of global GDP and becoming the largest free trade area in the world. It will serve to eventually eliminate tariffs on as much as 92% of goods traded among its signatories, expand market access for investment, harmonise rules and regulations, and strengthen supply chains within itself.
The deal was signed between 10 members of the bloc and five partners of China, Japan, the Republic of Korea, Australia, and New Zealand on November 15, 2020, during the 37th ASEAN Summit chaired by Vietnam. It consists of four free trade agreements that ASEAN has signed with partners to create a new free trade zone.