High-level seminar explores new possibilities for Vietnam-Japan relations
Thứ Ba, 07/03/2023, 23:59
A high-level economic seminar between Vietnam and Japan was held in Hanoi on March 7 to explore new possibilities for bilateral relations towards the future.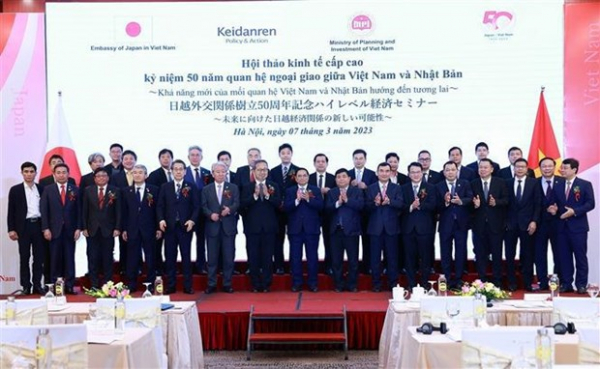 A high-level economic seminar between Vietnam and Japan was held in Hanoi on March 7 to explore new possibilities for bilateral relations towards the future.

The event was held by the Ministry of Planning and Investment, the Japanese Embassy in Vietnam, the Japan Business Federation, and the organising committee for celebrations of the 50th anniversary of the countries' diplomatic relationship (September 21).

In his remarks, Prime Minister Pham Minh Chinh said 50 years after the establishment of bilateral diplomatic ties, the Vietnam - Japan friendship and cooperation have been unceasingly reinforced and developing in various fields

Particularly, economic, trade, and investment partnerships have continually received special attention and been promoted comprehensively. Both sides have built many important legal frameworks for bilateral ties and are currently members of new-generation free trade agreements such as the Comprehensive and Progressive Agreement for Trans-Pacific Partnership (CPTPP), and the Regional Comprehensive Economic Partnership (RCEP).

These are important corridors for fostering bilateral trade and investment links in the mutually beneficial and supporting spirit, he noted.

Japan has become the biggest ODA provider for Vietnam with more than 2.7 trillion JPY (19.8 billion USD) in loans, nearly 100 billion JPY in non-refundable aid, and 180 billion JPY for technical cooperation, substantially contributing to large-scale infrastructure projects, creating momentum for sustainable socio-economic development, and helping with the transfer of advanced technology and human resources training in Vietnam.

It currently has more than 5,000 valid investment projects worth nearly 70 billion USD in total, ranking third among the 141 countries and territories investing in Vietnam. Meanwhile, the Southeast Asian country is investing in 104 projects worth 19.2 million USD in Japan, which stands at the 36th position among the 79 destinations of Vietnamese investment.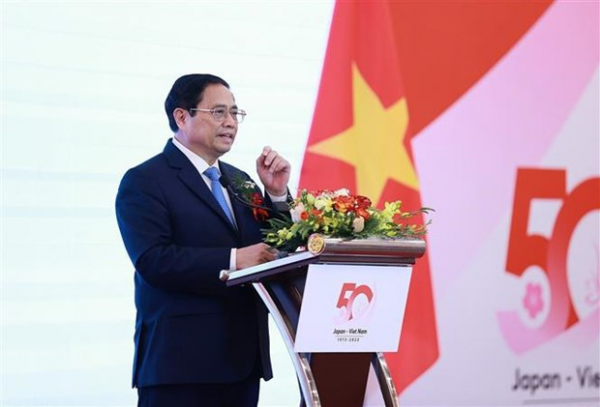 Bilateral trade approximated 50 billion USD in 2022, turning Japan into the fourth largest trading partner of Vietnam, which exported nearly 25 billion USD worth of goods to the Northeast Asian nation.

Besides, the Vietnam - Japan Joint Initiative, a special cooperation mechanism between the two Governments, has been carried out in eight phases over 20 years, generating numerous encouraging results in improving Vietnam's investment climate and competitiveness.

Vietnam highly values the determination, seriousness, and effectiveness of Japanese investors and also understands their sincerity, trust, and commitment, PM Chinh said, appreciating the Japanese Government and enterprises' contributions to Vietnam's development achievements.

He held that the countries' cooperation potential remains diverse and huge, calling on FDI businesses, including Japanese ones, to increase training high-quality human resources, apply advanced management science, and step up research, development, and innovation, thereby turning Vietnam into a centre in regional and global value chains.

The Vietnamese Government will always stand side by side with and create the best possible conditions for Japanese investors to make successful, sustainable, and long-term investment in the country, he emphasised, considering their success as Vietnam's.

The PM expressed his belief that as the traditional cooperation, comprehensive results, sincerity, and mutual trust, are brought into full play, bilateral relations will continue to be consolidated in a more substantive manner, heralding a new era for the ties for the sake of the two peoples and for peace, stability, cooperation, and development in the region and the world at large.

At the seminar, participants made term-end review of the 8th phase of the Vietnam - Japan Joint Initiative, looked back on cooperation over the last 50 years, and discussed the vision for the next five decades.