Potential opportunities for Vietnam to become world's new production base
Thứ Sáu, 03/03/2023, 14:01
The country has the potential to become the world's new production base in the current global supply chain transformation, according to Dr. Ho Quoc Tuan, senior lecturer at University of Bristol (UK).
Dr. Tuan said that trade tensions between the United States and China, the COVID-19 pandemic, and the conflict in Ukraine represent the main factors in driving the shift of global supply chains, mainly from China, the world's major factory to other countries in the region.
He added that the urgent need to diversify the global supply chain amid risks caused by these factors has created an opportunity for the nation to become one of the new global production bases and gain a share of manufacturing services moving from China.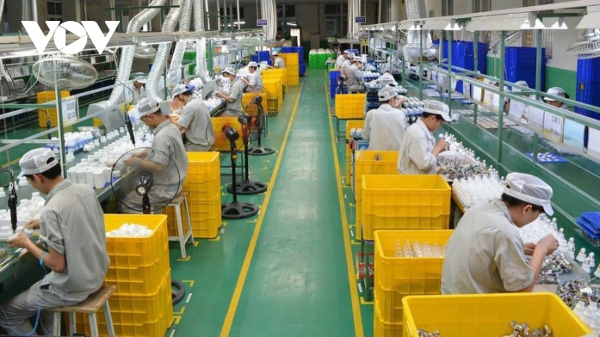 In line with this, Vietnam is one of the most mentioned countries in the region in terms of its ability to become involved in the global supply chain.
Statistics highlight that there have been production shifts to the nation, including many corporations in the top US$500 billion in the US such as global technology companies such as Intel and Apple.
This potential has been confirmed with major players in the region China and India naming Vietnam in their competitor assessment reports, noting that the country has the advantage of cheap labour and large foreign investment incentives.
However, Dr. Tuan emphasized that despite boasting both potential and opportunities, the country still needs to take timely actions in order to make the best use of this potential.
He noted that the advantage of cheap labour also means that the capacity and qualifications of local workers remains limited and there is still a shortage of highly qualified human resources.
Furthermore, the country also faces infrastructure challenges such as Internet, railway, and aviation transport infrastructure, therefore, the nation needs to accelerate digital and technological transformation. To be able to compete with regional rivals, the country needs to accelerate the process of infrastructure development, promote the digital economy, and adopt proper policies aimed at encouraging development and investment in training human resources.
More importantly, in order take advantage of cheap labour and foreign investment incentives compared to regional rivals such as Indonesia and Thailand, Vietnam requires a comprehensive industrial development strategy that ensures incentives, both for foreign enterprises and domestic ones, he went on to say.
Dr. Tuan pointed out that currently there is a disparity between the foreign sector and the domestic sector due to foreign enterprises enjoying incentives as a means of spurring their growth, although this has yet to lead to the development of domestic enterprises.
He therefore emphasized that the overall industrial strategy should ensure that both economic sectors can invest in low-cost production.
This strategy also needs to define a clear development direction with a specific focus on developing a number of key industries and promoting agricultural development.
A clear and comprehensive industrial strategy is therefore not only aimed at solving specific problems such as infrastructure or human resources, but also seeks to reform economic activities to create breakthrough growth.
According to Dr. Tuan, amid an increase in the need to diversify supply sources outside China, the country represents an interesting destination for foreign companies. Due to this, it is necessary to quickly utilize opportunities to make breakthroughs towards becoming a growth pole in the region.
He therefore warned that India is also emerging as an alternative to China to become the world's new production base, potentially becoming a growth hub in South Asia.
It is possible that due to Vietnam being far from this region, it will miss out on opportunities that will instead go to satellite countries around India, he added.
Dr. Tuan concluded that in order to take advantage of opportunities to become a new production centre in the region, now is the time for the country to quickly reform and create a breakthrough plan in growth by carrying out a comprehensive industrial strategy with specific, ambitious, but realistic goals.