Travel businesses anticipate bonanza during year-end peak season
Thứ Ba, 11/07/2023, 15:39
Service businesses are introducing solutions aimed at attracting hordes of foreign visitors during the peak season at the end of the year following the legislature's recent approval of a bill which seeks to ease visa problems.
Under the new bill which is due to take effect from August 15, Vietnam will allow foreigners to extend their e-visas validity to 90 days, as opposed to the current period of 30 days.
During their approved duration, foreigners will be able to enter and exit the country multiple times, without the need of going through new visa procedures.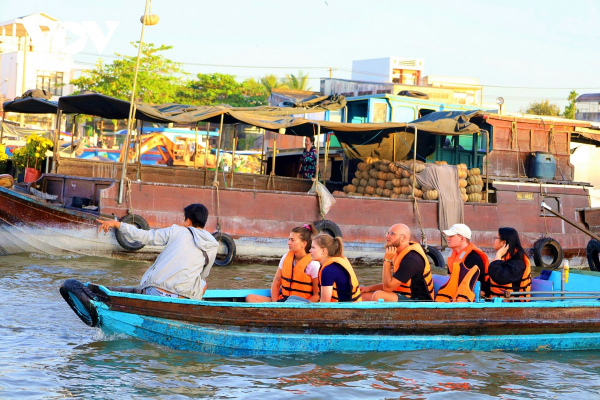 Foreigners who are subject to visa exemption will duly be granted a temporary residence certificate at international border gates which will be valid for 45 days, as opposed to the current period of 15 days. In addition, they will be considered for visa issuance and temporary residence extension according to relevant regulations.
The new visa policy is anticipated to provide fresh impetus for the tourism industry when the peak international tourism season arrives at the end of the year.
Each day sees the Thang Long Water Puppet Theater welcome more than 1,000 visitors, 80% of whom are foreigners. The number of foreign spectators has increased by 60% compared to the same period of last year since the beginning of the year, and is expected to increase further soon after the new visa policy takes effect.
"At present we are running four shows a day, and are likely to raise the number to 6 or even 9 by the end of the year. We also expect a 40% increase in revenue by the time," said Tran Thi Thu Hien, director of the theatre.
The tourism industry has set a target of receiving approximately eight million foreign visitors this year. However, foreign arrivals during the first six months of the year met 69% of the annual target, and the year-end figure is likely to hit 10 million, according to experts.
To anticipate the peak season, travel businesses are devising development plans with a variety of options, such as building long-term tour products, launching new products, or operating transnational tours.
"Tours will be more diverse if trans-national tour products are designed. For instance, the visitors can come to Hanoi (Vietnam) then travel to Laos, Cambodia, and Thailand, before flying back to Ho Chi Minh City (Vietnam) and back to their home," explained Nguyen Cong Hoan, general director of Flamingo Redtours Joint Stock Company.
Designing longer tours with new destinations is also another option, according to Phan Chuong Vu, an executive of Discova Vietnam.
"The programme will be extended to about 20-21 days, and we even design one more week of stay at a resort to offer a new experience to the visitors," said Vu.
According to a representative of Hanoitourist, the tourism industry will earn more cash when the length of stay is extended to another 60 days, along with the potential to open up new experience tourism products at the request of visitors.
"With the new visa policy in place, we expect foreign visitors' spending will likely increase by approximately 20%," said Le Hong Thai, director of Hanoitourist.
Experts have therefore suggested that along with the State policy, service businesses should seek to further improve service quality and learn tourism development strategies from regional rivals such as Thailand, Malaysia, and Singapore.