Vietnamese, RoK leaders attend Vietnam-RoK business forum
Thứ Sáu, 23/06/2023, 22:31
Prime Minister Pham Minh Chinh and President of the Republic of Korea (RoK) Yoon Suk Yeol attended the Vietnam-RoK Business Forum in Hanoi on June 23, with over 500 delegates representing associations, corporations and businesses of the two countries taking part.
Speaking at the event, President Yoon said over 8,000 Korean enterprises are operating in Vietnam in electricity, electronics and high technology. Many Vietnamese people are learning Korean language while many Koreans are learning Vietnamese.

He suggested both countries elevate their relationship to a new level, particularly by increasing two-way trade to 150 billion USD by 2030. They should expand cooperation into other areas while removing any barriers that hinder this process.
According to him, Vietnam and the RoK are benefiting from free trade and need to protect and maintain these benefits in the future. Therefore, they should boost joint work in digital transformation, energy transition and renewable energy. The President hoped that businesses from both countries will engage in specific, practical and effective joint projects, and affirmed that in the future, the two countries will continue cooperating for development, and this responsibility lies with their young generations.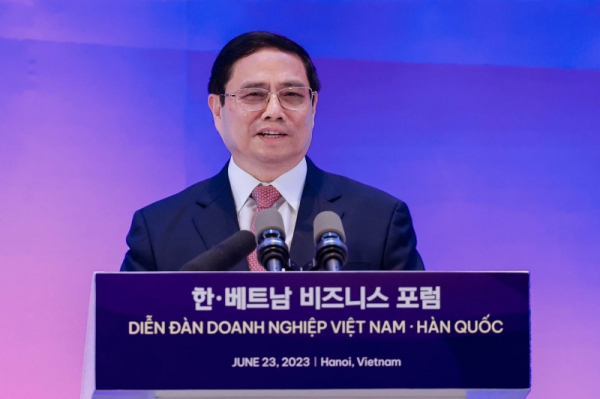 In his speech, PM Chinh thanked Korean friends for partnering with Vietnam for development over the past three decades. He expressed his thanks to Korean firms for their commitments to investing in Vietnam in new fields.

He wished that they would make breakthroughs in economic, trade and investment collaboration, with results three to four times higher than the current ones toward the 60th anniversary of bilateral diplomatic ties.

According to him, Vietnam already inked 15 free trade agreements (FTAs) with over 60 countries and territories, and is preparing for an additional one, making a total of 16 FTAs. At the same time, Vietnam has become an attractive investment destination with around 37,000 active FDI projects, with a total capital of over 440 billion USD from investors representing 143 countries and territories.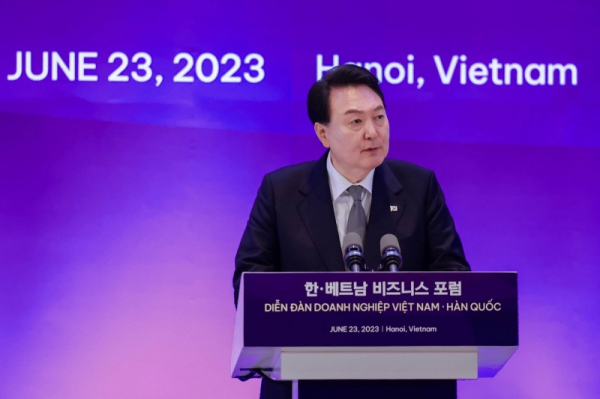 Vietnam is giving priority to three strategic breakthroughs regarding institutional reforms, infrastructure and human resources, he said, adding that it is stepping up economic restructuring, industrialisation and modernisation based on sci-tech and innovation, including sustainable growth drivers such as the digital economy, digital transformation, green growth and circular economy in line with the country's green growth strategy.
In such process, Vietnam welcomes foreign investors, especially those from the RoK, particularly in innovation, digital transformation, biotechnology, electronics, semiconductors, clean energy, green economy, smart city development , and hi-tech agriculture, he stressed. He also wished for their further investment in cultural and entertainment industries.

During a round-table seminar with leading Korean business associations and corporations earlier, PM Chinh said Vietnam is striving to become a developed country with high income by 2045.

He expressed his delight that the RoK has become the biggest foreign investor, the second largest ODA provider and the third biggest trade partner of Vietnam.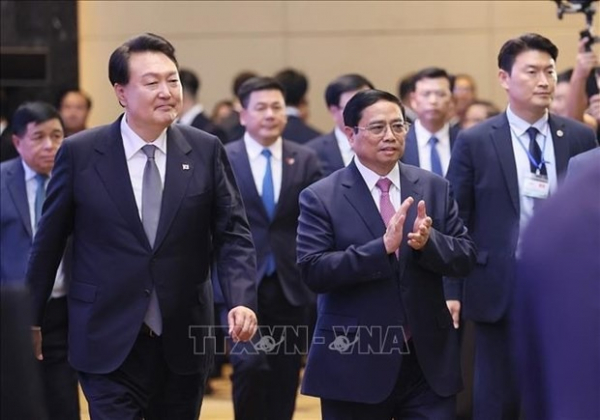 The Vietnamese Government always accompanies businesses in the spirit of harmonising interests and sharing risks, he said.

He also pledged to assign relevant ministries and agencies to consider Korean firms' proposals and gradually realise them.

Participating firms hailed Vietnam as an important and strategic partner and vowed to stand side by side with Vietnam on the path to shared prosperity.

They expressed their interest in investing in areas of their strength such as green and digital transformation, sci-tech, innovation, supporting industries, food industry, entertainment, logistics, smart city development, and large-scale shopping malls.

They suggested the Vietnamese Government, ministries and agencies create more favourable conditions for Korean enterprises, especially in administrative reform and supply of high quality workforce.