Vietnam-China trade hits 90 billion USD
Thứ Hai, 28/08/2023, 22:27
PSNews - The General Department of Customs said that the Vietnam's total import and export turnover with China in the first 7 months of 2023 reached more than 89 billion USD.
China is currently Vietnam's second largest export market, just behind the US, with a turnover of over 30 billion USD in the first seven months of 2022.
According to statistics of the General Department of Customs, the export turnover of Vietnamese goods to China in the first seven months of 2022 reached more than 30 billion USD, an increase of 5% over the same period last year. In July alone, export turnover recorded a decrease of 9.5% compared to June, reaching 3.95 billion USD.
Phones and components are the group of products with the largest export turnover in the past 7 months, reaching 7.3 billion USD, an increase of nearly 12% over the same period last year, accounting for 24.5% of exports. Next is the group of computers, electronic products and components with 6.6 billion USD, an increase of 12.5%, accounting for more than 22% of exports.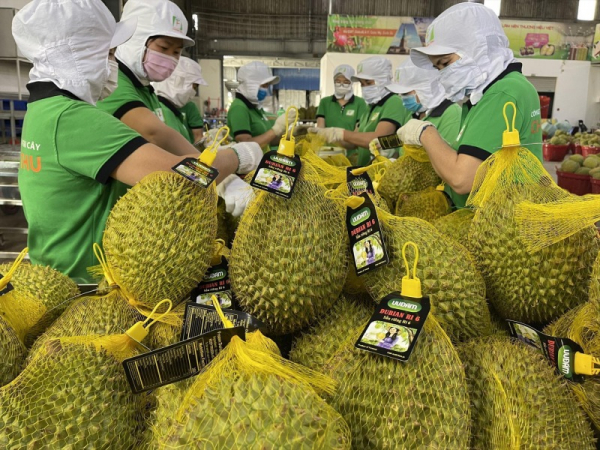 Notably, in the first 7 months of the year, fruits and vegetables exported to China increased 30.8% year-on-year, earning revenues of 1.99 billion USD, accounting for 65% of the country's total vegetable and fruit export turnover. 
Among the exported fruit and vegetable products to China, durian still remains the fastest-growing and most valuable item. This remarkable surge can be attributed to the growing demand coming from China.
According to Mr. Dang Phuc Nguyen, General Secretary of the Vietnam Fruit and Vegetables Association, it is expected that durian will continue to attract Chinese tourists when Thailand, the Philippines and Malaysia are all nearing the end of the harvest while Vietnam still has the Central Highlands region that can be harvested from August to November.
Earlier, he affirmed that the increase in fruit and vegetable exports to the Chinese market was partly because many border gates between Vietnam and China increased their daily operating hours to receive trucks. This showed that the demand from the Chinese market has been huge after a long period of decline, due to the impact of the COVID-19 pandemic.