EU-VN documentary films shine in theatres
Thứ Hai, 25/09/2023, 16:21
PSNews - The 13th Europe-Vietnam Documentary Film Festival was officially kicked off on September 22 in Hanoi. 
This year's festival is co-hosted by the Vietnam National Studio of Documentary and Scientific Films and the European Union National Institutes for Culture (EUNIC). 
According to Deputy General Director of the National Documentary and Scientific Film Studio Trinh Quang Tung, following the success of previous years, the 13th European-Vietnamese Documentary Film Festival is expected to bring audiences unforgettable experiences.
"This is an annual cultural event leaving a good impression over the years," he said, noting that the films participating in this year's festival are about climate change, women's liberation, risks of the digital age, social issues, and others.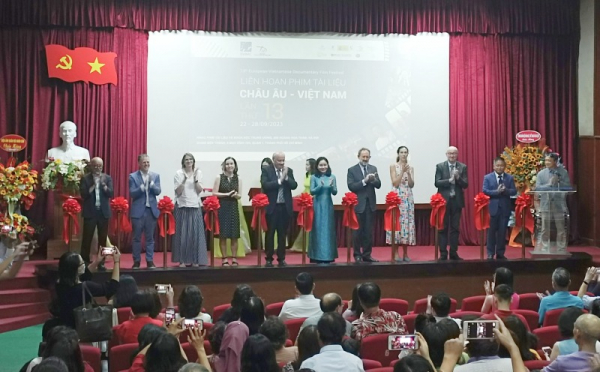 "The festival is a unique cultural exchange activity and the highlight of the journey of cooperation with Việt Nam in the field of cinematography. Each film attending this year's festival has its own message, but in general, the audience who love cinema will have the opportunity to explore more about the country, people and different cultures,", said Mr. Trinh Quang Tung.
Mr. Wilfried Eckstein, Director of Goethe Institute Hanoi, President of EUNIC – Vietnam shared that, the greatest plus of documentaries is their basis in research and their journalistic ethos. They look at social changes and what it means for the individual.
The event takes place in Hanoi and Ho Chi Minh City from September 22-28. Audiences would have a chance to enjoy the free screening of several documentary films from Austria, Italy, Germany, Spain, the UK, Poland, Belgium (Wallonia-Brussels), and Vietnam.
The films are screened at the Central Scientific and Documentary Film Studio in Hanoi, and DCINE Ben Thanh in HCMC.