New creative space opens in Thong Nhat Park
Chủ Nhật, 10/09/2023, 15:59
PSNews - A new artistic creative space was officially opened in Hanoi's Thong Nhat Park pedestrian zone in September.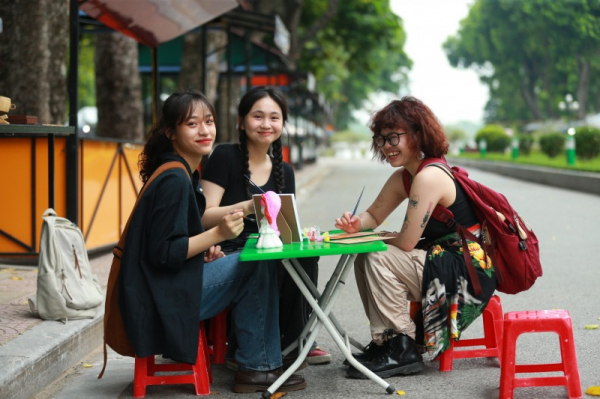 The opening ceremony was co-hosted by Thong Nhat Park and ICEP-Hanoi Classy (International Cultural Exchange and Preservation), a unit of UNESCO Vietnam.
"The establishment of the Artistic Creative Space on the Thong Nhat Park pedestrian zone will bring many sources of inspiration for artists, young people, nature lovers, sports lovers and Hanoi," said Phan Thu Hang, Director of the UNESCO Center for International Cultural Conservation and Exchange.
This creative space is inspired by Hanoi in the 1990s when the city was transitioning from a centralized planning economy to a market economy. Young people are drawn to the colorful photo booths set up under huge, lush green trees.
Pho (noodle soup) from Hang Chieu Street, young green rice flakes of Vong Village from Vong Village are among the Hanoi specialties offered at the food stalls.
The pedestrian street in the area surrounding Thong Nhat Park is expected to be an attractive place for young people thanks to areas dedicated to outdoor movie screenings, music, and sports.