Red ceramic street opens in Vinh Long Province
Thứ Năm, 14/09/2023, 22:30
PSNews - A street displaying typical red ceramic products of Vinh Long Province is opened to public within the framework of the Vietnam Agricultural Festival 2023.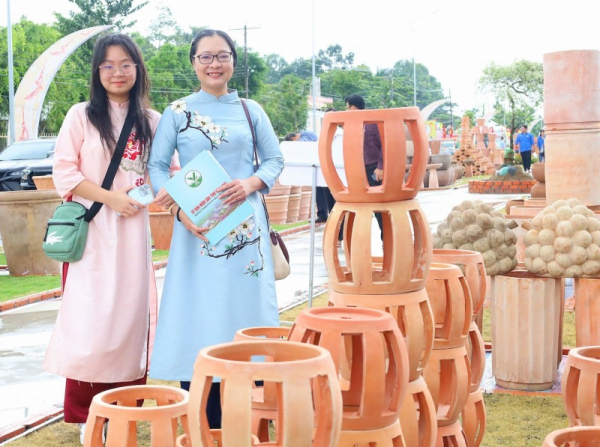 The project is one of the activities to celebrate the 110th birthday anniversary of Professor, Academician, Labour Hero, Major General Tran Dai Nghia (September 13, 1913-2023). This is also an opportunity to promote the red ceramic products of Vinh Long Province.
The southern province of Vinh Long is located between the two big branches of the Mekong River - Tien Giang and Hau Giang. For thousands of years, under the alluvial layer of the two rivers, deposits of rare and precious clay have been formed. They clay is the raw material to make red ceramic products, which Vinh Long is famous for
The 500-m street was set up in Ward 9 of Vinh Long City, showcasing nearly 2,500 ceramic products by 16 businesses throughout the province. The highlight of the street is the display of a typical mushroom-shaped pottery kiln, which is used to fire ceramic products.
The ceramic street is jointly implemented by the provincial Department of Industry and Trade, the provincial Ceramics and Tile Association, and the provincial Association of Literature and Arts.
Vinh Long red ceramic products are now present in European, American, Australian, and Asian markets. Each year, more than 5 million ceramic products of all kinds are made in Vinh Long province, generating revenue of over 500 billion VND.