Seven lotus lanterns on Huong River lit up to celebrate Buddha's birthday
Thứ Ba, 10/05/2022, 21:12
PSNews - Seven giant lotus-shaped lanterns floating on the central Huong River in Hue City were lit up to inaugurate a cultural week celebrating Buddha's birthday.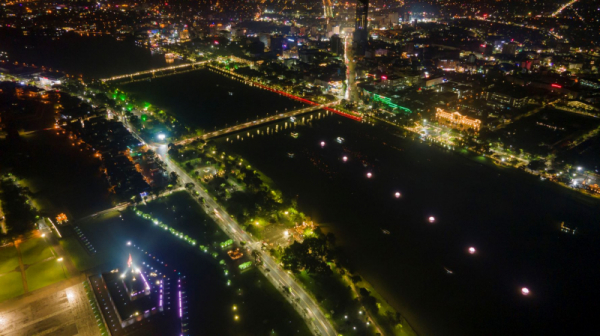 Seven lotus flowers are arranged from Phu Xuan bridge to Da Vien bridge, symbolizing the first seven steps of Buddha immediately after he was born more than 25 centuries ago. 
Each floating lotus lantern, which is 300kg in weight, 8m in diameter and 4m in height, is made of pink cloth petals around a steel frame.
For Hue people, Buddha's birthday is considered as one of the major festivals, so many families make early preparations.  In addition to roads to pagodas, people hung the Buddhist flags everywhere, decorated the built lotus shaped lamp supports and five-colour lanterns to pray for the peace.
After a two-year absence due to the impact of the COVID-19 pandemic, the 7 lotus lanterns were re-installed as an annual activity before each Buddha's birthday ceremony in Thua Thien Hue.
The event marks the start of a series of activities leading up to Buddha's birthday on Saturday. During the week, a number of ritual ceremonies will take place in almost 300 pagodas around the city and its surrounding areas. Some of them will be accompanied by street parades.