Outgoing US Ambassador: Vietnam's always in my heart
18:41 10/04/2021
PSNews - Outgoing US Ambassador to Vietnam Daniel Kritenbrink reviewed his working term in Vietnam during a press briefing in Hanoi on April 7.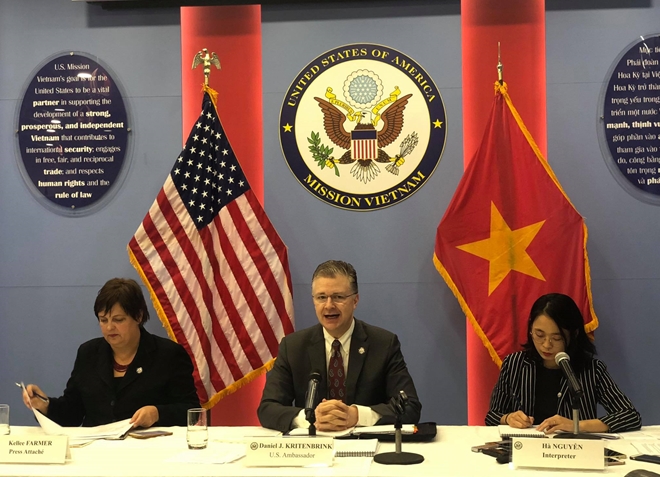 Outgoing US Ambassador to Vietnam Daniel Kritenbrink speaks at the press conference.

During the 2-hour meeting, the outgoing US Ambassador to Vietnam shared his thoughts on positive developments in the Vietnam-US relationship over the past 25 years. He also called his three–year-and–a-half term of office in Vietnam a "great time", and underscored three words: grateful, proud and optimistic.
The ambassador said he was grateful for the support of the government as well as the people of Vietnam and the US. He said he had the privilege of becoming the US Ambassador to Vietnam, and performing his responsibilities to promote the bilateral relationship.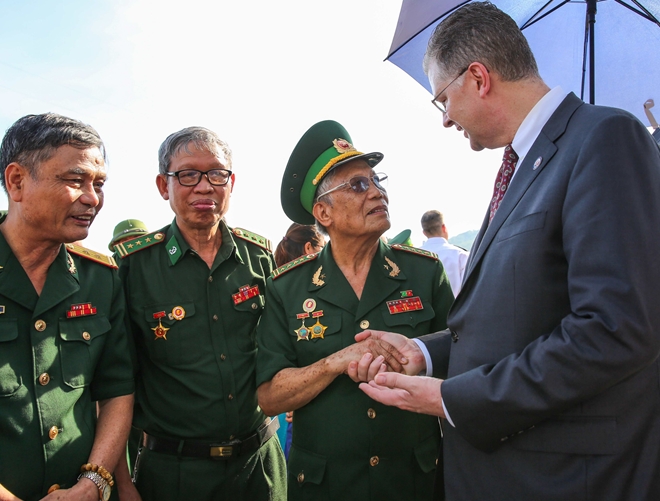 Ambassador Daniel Kritenbrink and Vietnamese veterans at a meeting in Thanh Hoa.
He also said he was proud of the cooperation achievements that the two countries had achieved over the past 25 years, especially during his working term. The ambassador said, before the COVID-19 pandemic, Vietnam was the U.S.'s fastest growing export market in the world, while the US was Vietnam's largest export partner. In addition, the two countries also had a lot of cooperation activities in education, security and health. Ambassador Daniel Kritenbrink expressed his optimism about the future of the US-Vietnam relationship.
According to him, Vietnam and the US share a common view of the regional and global strategy. Meanwhile, the two countries continue to responsibly and constructively resolve differences, while promoting mutual trust and respect. The ambassador believed that the bilateral partnership will be further strengthened under the J. Biden administration. The US supports a strong, prosperous, and independent Vietnam, he affirmed.
Additionally, Ambassador Daniel Kritenbrink highlighted the cooperation in the health sector between the two countries, especially during the COVID-19 pandemic. Medical cooperation has been a spotlight in the bilateral relationship, said the ambassador. This partnership has been bolstered over the past 20 years. In 2020 alone, the US supported Vietnam with nearly $ 1 billion and 100 ventilators.
He also appreciated the time he had worked with Vietnamese colleagues and friends to contribute and build a friendly and cooperative relationship between the two countries. Ambassador Daniel Kritenbrink revealed that he is very fond of Vietnamese cuisine. He said he do not know what to eat for breakfast when he returns to Washington D.C. for a new assignment as he is used to eating pho and other Vietnamese food for breakfast.
He also said he loves the beauty of Vietnam, emphasizing that he has seen many beautiful landscapes and met many kind people in the country during his business trips and leisure trips over the past 3.5 years.