HCM City enhances international cooperation in preventive medicine
Thứ Bảy, 02/09/2023, 16:09
The Ho Chi Minh City Centre for Disease Control (HCDC) signed a cooperation agreement on preventive medicine with the Oxford University Clinical Research Unit (OUCRU) on August 31, aiming to make strides toward improving the disease control capability at the centre.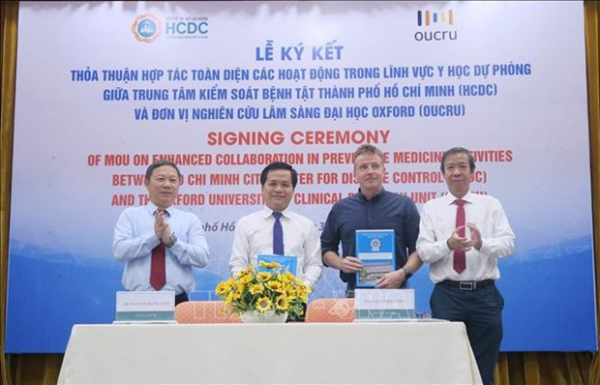 Accordingly, both sides will share knowledge, techniques, and scientific information in the field, including testing, disease screening, data analysis and management, and scientific research over a period of five years.
The OUCRU will assist the HCDC in training diagnostic techniques for infectious diseases, such as isolating and detecting disease agents using molecular biological methods and decoding genes. They will also step up research topics related to emerging infectious diseases and evaluate community intervention measures.
OUCRU Director in Ho Chi Minh City Guy Thwaites said over the course of more than 30 years in Vietnam, the unit has conducted numerous studies on infectious diseases that could affect the health and lives of Vietnamese citizens as well as those in Southeast Asian countries in general.
With this collaboration, Deputy Director of the municipal Health Department Nguyen Van Vinh Chau hoped for more community health studies and assessments of the effectiveness of disease control policies. This, in turn, could pave the way for new directions in research cooperation in preventive medicine.
He also asked the HCDC to strengthen its internal strength and enhance its capacity to engage in effective studies, which is also one of the key components of a relevant project launched by the municipal People's Committee early this year.