Nearly 33,000 people pay tribute to President Ho Chi Minh on National Day
Thứ Hai, 04/09/2023, 16:15
PSNews - Many organisations, agencies, and thousands of people from across the country visited the Ho Chi Minh Mausoleum on the occasion of Vietnam's 78th National Day (September 2, 1945 – 2023).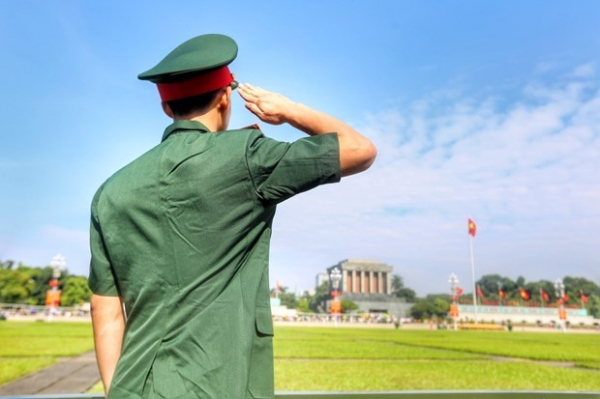 The Ho Chi Minh Mausoleum in Hanoi welcomed 32,768 visitors on the National Day. According to the Ho Chi Minh Mausoleum Management Board, from the early morning, delegations of veterans and people from provinces and cities across the country, overseas Vietnamese, and international visitors also paid tribute to late President Ho Chi Minh.
During the holidays, the management board has coordinated with units in the Ba Dinh Historical-Cultural Relic Complex, and the authorised agencies of Hanoi to effectively serve domestic and foreign visitors.
On this occasion, the Ho Chi Minh Mausoleum Management Board in collaboration with the Hanoi Department of Tourism provided free cakes and drinking water for compatriots and international guests visiting the Mausoleum. Small gifts were given to each guest by officials, employees, and soldiers.
President Ho Chi Minh was born on May 19, 1890 in Kim Lien commune, Nam Dan district, Nghe An province. He devoted his whole life to the cause of national liberation, while tirelessly striving for peace and progress around the world.
He led the struggle for national independence and established the Democratic Republic of Vietnam, now the Socialist Republic of Vietnam, in 1945.
The President passed away in 1969. His body was embalmed and placed in a glass coffin inside the granite mausoleum. The mausoleum has become an important landmark of the capital city and is integral to the political and social history of Vietnam.
Earlier, during the three-day holiday from April 29 to May 1, around 52,250 visitors, including 2,900 foreigners, came to pay tribute to President Ho Chi Minh, the great leader of Vietnam, at his mausoleum.