New terminal of Phu Bai International Airport put into service
Thứ Hai, 01/05/2023, 21:40
PSNews - Recently, the T2 passenger terminal of Phu Bai International Airport in Hue has been inaugurated after more than three years of construction. According to the Airports Corporation of Vietnam (ACV), from April 28, all flights from and to Phu Bai Airport would use the new terminal instead of the T1 terminal.
Construction of the T2 terminal began in December 2019, with a total cost of nearly 2.3 trillion VND (98 million USD). Its design is modelled after the Hue imperial architecture with cascading roof layers.
The new terminal, 15km from Hue, has eight parking lots and a runway allowing for Airbus A320, A321, A350 and Boeing 787. It has an annual capacity of 5 million passengers, including 4 million domestic passengers and 1 million international passengers.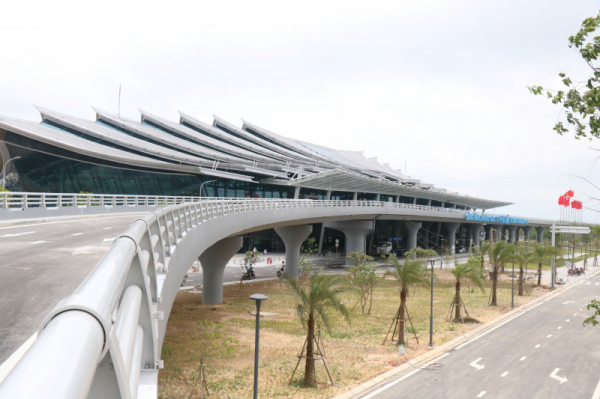 The T2 terminal of Phu Bai Airport is the first airport terminal where the ACV has applied digital technologies to enhance the passenger experience, including self-check-in kiosks, self-baggage drops and automatic security checks.
Currenrly, Phu Bai Airport is handling 15-17 domestic flights a day. As planned, the airport will be upgraded in the second phase to receive 9 million passengers in 2030 and six more parking lots.
Local airlines including Vietnam Airlines, Pacific Airlines, Vietjet Air and Bamboo Airways are operating domestic routes from Hue to Hanoi, HCM City, Hai Phong, Phu Quoc and Da Lat.
Meanwhile, the national flag carrier Vietnam Airlines, Thai Airways, Japan Airlines and China Airlines help connect Hue to Bangkok, Thailand; Bali, Indonesia; Beijing, mainland China; Osaka, Japan and Taipei, Taiwan.
The province has been working with local airlines in promoting more international flights linking Hue with the Middle East, Thailand, Australia, Japan and China in the coming years.
The province hosted two million tourists, of which 260,000 were foreigners, in 2022.