Vietnam - Germany direct flight to launch from Q1
Thứ Tư, 26/01/2022, 12:38
PSNews - Bamboo Airways confirmed plan to launch its first route to Germany on a ceremony held on January 24. Moreover, its first general agency in Germany has just put into operation.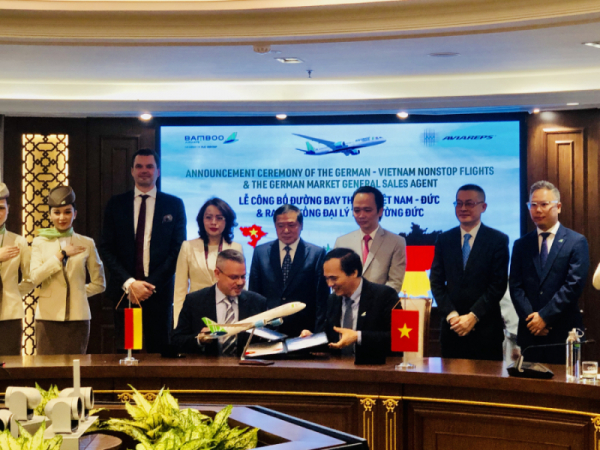 As planned, there will be two weekly flights running, with the frequency increasing based on demand, connecting Hanoi with Frankfurt in Germany from Feb. 25. The airline had initially begun to sell tickets for the route from January 24 on its official website www.bambooairways.com, Bamboo Airways' mobile application, and at its ticket offices nationwide.
In addition, the carrier plans to open a direct route between Ho Chi Minh City and Frankfurt soon as well as direct flights to Munich or Berlin in the time ahead. Other regular flights between Hanoi and London are scheduled to take off on March 22 and from Ho Chi Minh City to Melbourne from February 19.
* The Civil Aviation Administration of China has rejected Vietnam's proposal to resume commercial flights since strict entry measures remain in place to control COVID-19.
It has not been authorized to discuss resumption of flights with other countries yet, the Chinese agency said, promising to start discussions with the CAAV as soon as the government relaxes pandemic prevention measures. As reported, China is one of the few countries in the world still pursuing a zero-Covid policy and stringent entry requirements.
Vietnam resumed regular flights from Hanoi and HCMC to Bangkok, Phnom Penh, San Francisco, Seoul, Singapore, Taipei, and Tokyo on January 1.