Vietnamese students receive 80 awards for start-up ideas
Thứ Hai, 27/03/2023, 22:20
PSNews - According to the Ministry of Education and Training, the 5th National Startup Festival for Students (SV-Startup) closed on March 26 in the central city of Hue with an awards ceremony for the best startup ideas.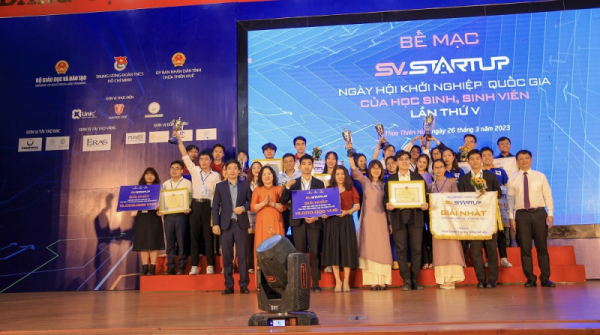 80 start-up projects of students were awarded at the National Entrepreneurship Festival on Sunday in Hue city by the Ministry of Education and Training, the Youth Union and Thua Thien Hue province.
The startup projects are put into five categories, namely manufacturing; agriculture; education, tourism, service and finance; healthcare; and business with social impact. Since the contest was launched in November last year, the Organizing Committee had received 508 projects.
A wide range of activities were held within the two-day event, including a workshop on startup support in secondary schools, a forum connecting startup networks at colleges and universities, and an exhibition of student startup projects.
According to leaders of Hue University, which hosted this year's festival, in response to the startup movement, the member colleges of Hue University have organised many programmes to support students in their startup process and incubate feasible business ideas.
Ngo Thi Minh, Deputy Minister of Education and Training, said, "During the 5th Entrepreneurship Day of students this year, they had the opportunity to exchange and share products with each other and the difficulties they encountered and learn solutions. In particular, they are connected with businesses and organizations that can support them. During in-person meetings, students learn a lot and got inspired".
At the closing ceremony, the organisers presented five first prizes, ten second prizes and 15 third prizes each for the group of college students and the group of secondary students.
According to the Youth Union's Secretary Nguyen Tuong Lam, a project worth more than 600 million USD will be planned until 2027 for youth startup. The Youth Union will design specific solutions to help youths in starting a business, he said.