British MPs back enhancement of Vietnam-UK strategic partnership
Thứ Năm, 17/03/2022, 20:03
Last year's two-way trade turnover hit US$6.6 billion, representing a year-on-year rise of more than 17% after one year of enforcing the UK-Vietnam Free Trade Agreement (UKVFTA).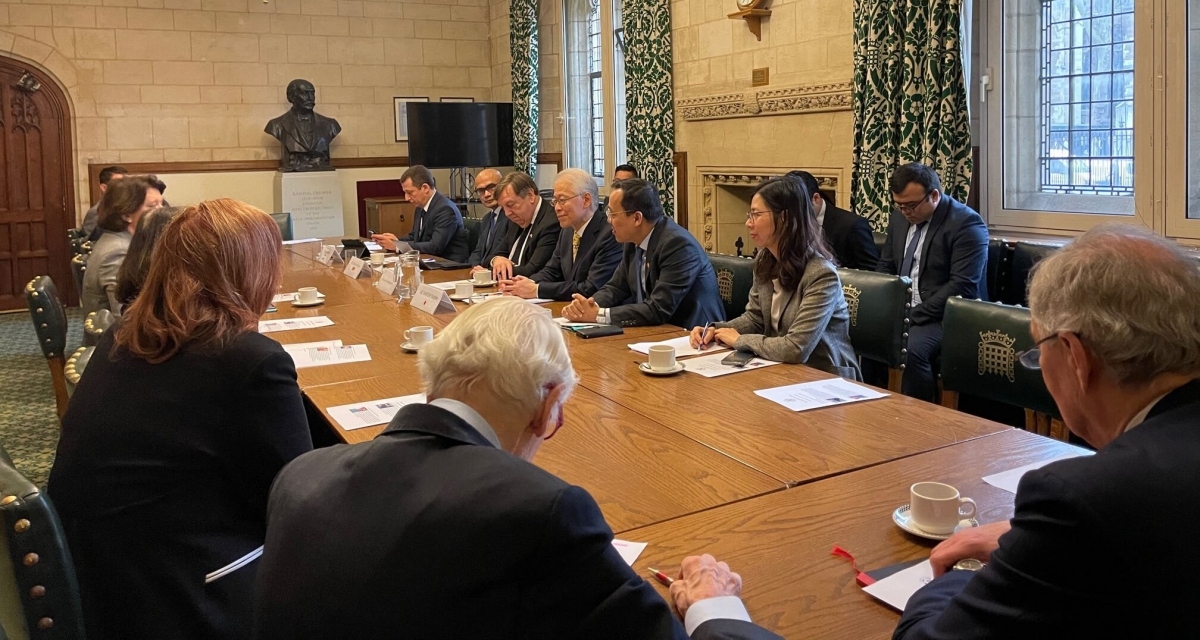 Vietnamese Ambassador to the UK Nguyen Hoang Long recently held an exchange on the Vietnamese economic situation and economic ties with British MPs at the headquarters of the UK Parliament in London at the invitation of the British Group of the Inter-Parliamentary Union (BGIPU).
During the exchange, Ambassador Long thanked MP John Whittingdale, chair of the BGIPU, as well as BGIPU members, for consistently paying attention to and supporting bilateral relations
The Vietnamese diplomat underscored the importance of parliamentary diplomacy in deepening understanding between citizens of both nations, thereby helping to promote joint ties, as well as contributing to the creation of a peaceful and stable international environment.
He was highly appreciative of the drastic implementation of the wider UK global strategy and its pivot to focus policy on the Asia-Pacific region receiving strong support from British MPs.
Ambassador Long informed MPs about the positive developments in mutual relations over recent times, particularly with the joint efforts of both sides in maintaining development momentum across a variety of fields. This can be seen through the exchange of more than 10 high-level and ministerial-level visits and delegations in 2021 amid complicated developments relating to the COVID-19 pandemic.
Last year's two-way trade turnover reached US$6.6 billion, marking a year-on-year rise of more than 17%  after one year of enforcing the UK-Vietnam Free Trade Agreement (UKVFTA). In addition, bilateral co-operation in higher education and general education has been maintained and further strengthened.
The Vietnamese Ambassador expressed his belief that economic and educational exchanges between both sides moving forward will continue to be promoted, bringing about a range of benefits to businesses and people of the two countries. He also updated MPs on Vietnamese policies and situation regarding its COVID-19 fight and economic recovery, while also informing them of the country's reopening of international tourism from March 15.
MPs duly welcomed the decision made by the Vietnamese Government and added that Vietnam is now widely viewed as a favourite destination among UK travelers.
They applauded the nation's various achievements in COVID-19 prevention and control, socio-economic development, as well as its external policy of independence and self-reliance.
They affirmed BGIPU's support for the joint strategic partnership and agreed on priorities for bilateral co-operation, including areas with great development potential such as education, finance, renewable energy, and green transition.
Both sides also used talks as a chance to compare notes on international and regional issues of shared concern.
As a founder of the Inter-Parliamentary Union (IPU), the BGIPU is made up of MPs from both the House of Lords the House of Commons. The BGIPU's foreign policy priority is to promote British interests