Defence Deputy Minister hosts South African, Russian defence officials
17:30 21/01/2022
Deputy Minister of National Defence Sen. Lieut. Gen. Hoang Xuan Chien hosted a reception on January 20 in Hanoi for Colonel Eugene Vincent Jeoffrey Dudley, South African Defence Attaché to Vietnam.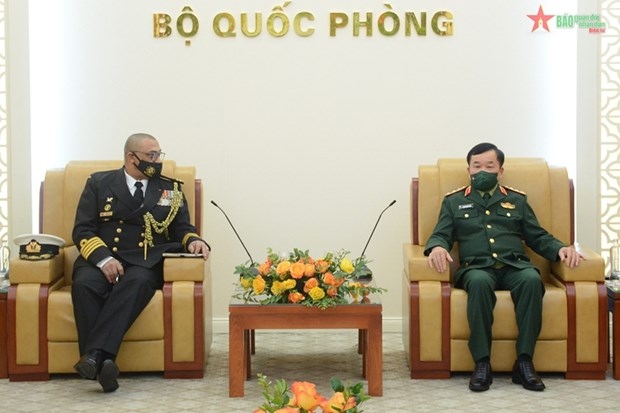 Deputy Minister Chien congratulated Col. Dudley on his appointment as South African Defence Attache to Vietnam, while expressing his belief that the Defence Attaché will have a successful term as a contribution to further strengthening the partnership for co-operation and development as well as defence co-operation between the two countries.
Under the terms of the agreement on defence co-operation signed back in 2006 by the two defence ministries, both sides have actively launched a range of defence co-operation activities, especially in the form of delegation exchanges, consultations, military industry, personnel training, security protection, logistics, and military medicine.
The Defence Minister suggested that the South African officer continue to push for a deeper and more effective and practical defence collaboration between the two nations. In line with this, the Ministry of National Defence of Vietnam will offer optimal conditions for the official to complete his missions in the nation, he added.
In response, Col. Dudley expressed his elation at the progress made in terms of defence co-operation between South Africa and Vietnam over recent years, and affirmed  the African nation's willingness to co-operate with Vietnam in such areas as English language training, military medicine, logistics, and other fields which can be considered South Africa's strengths.
He outlined his hopes at receiving support from the Vietnamese Ministry of National Defence during his working term in the country, thereby contributing to boosting mutual defence ties between the two nations.
The previous day saw Deputy Minister Chien also received outgoing Russian defence attaché to Vietnam, Col. Roman Boytsov, along with new defence attache Col. Govorov Alexey Arkadievich.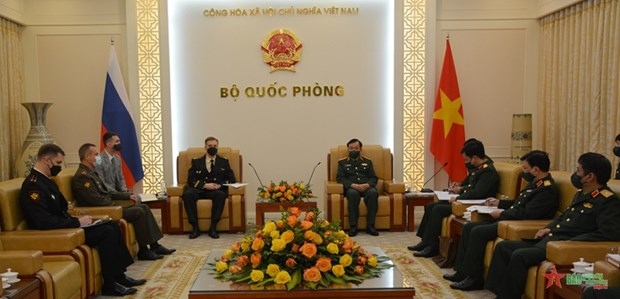 The Vietnamese Minister recalled the success of the Russia visit by Vietnamese President Nguyen Xuan Phuc from November 29 to December 2, 2021, in addition to talks between the two defence ministers during the visit. He added that this made an important contribution to further reinforcing bilateral comprehensive strategic partnership in which defence ties play a key role.
He stated that despite the COVID-19 pandemic, bilateral defence ties have been further deepened in a variety  of fields, including the exchange of political and defence policies and rewards for the two ministries' leaders and officials. This is along with personnel training, multilateral activities held by the two ministries, scientific research, and military technical co-operation.
The host wished that in any position, Col. Boytsov would continue making positive contributions to bilateral ties and relations between the two ministries.
He also asked the new Russian defence attaché Col. Arkadievich to work closely alongside Vietnamese authorities to effectively realise major orientations and priorities defence ties set by the two ministers during the talks on December 1, 2021.Moving forward, Col. Arkadievich will make his best efforts to develop on the past achievements of his predecessor and partner with competent Vietnamese agencies to reinforce bilateral defence ties.