NA Chairman holds talks with MERCOSUR Parliament's leaders
Thứ Sáu, 28/04/2023, 17:14
National Assembly (NA) Chairman Vuong Dinh Hue held talks with Gustavo Penadés, President of the Southern Common Market (MERCOSUR) Parliament (PARLASUR), and PARLASUR's vice presidents - Celso Russomanno, Tomas Bittar and Cecilia Britto, in Montevideo, Uruguay on April 27 (Uruguay time), as part of the former's official visit to Uruguay.
During the talks, Gustavo Penadés said he was impressed by Vietnam's dynamic development, emphasizing that PARLASUR wishes to strengthen cooperation with the National Assembly of Vietnam because of the Southeast Asian nation's important strategic role in the region and the world.

He expressed the hope that after the visit, the relations between Vietnam and MERCOSUR, which groups Brazil, Argentina, Uruguay, and Paraguay, will be strongly promoted in a more effective and practical manner, bringing benefits to the people of Vietnam and MERCOSUR member nations.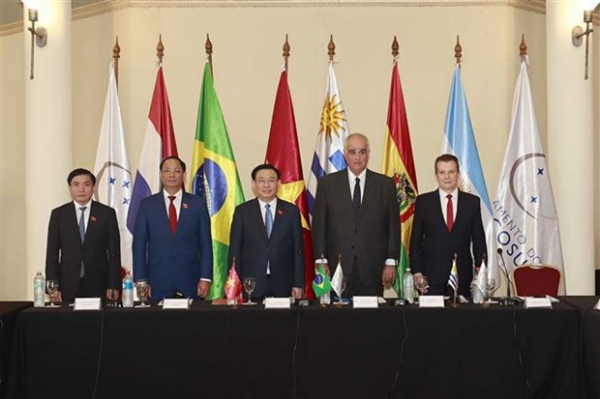 For his part, NA Chairman Hue thanked Gustavo Penadés for organising a meeting between the Vietnamese delegation and leaders of PARLASUR during his trip to Uruguay.

Vietnam values the role and importance of MERCOSUR in promoting integration and economic, trade, and investment cooperation, he stated, noting that this is an important factor contributing to promoting democracy, peace, stability and cooperation in the region and the world.

Vietnam attaches great importance to and wishes to further expand relations with MERCOSUR in general and each member country of the bloc in particular, he affirmed.

The two sides acknowledged with their pleasure that the relations between Vietnam and MERCOSUR and its member countries have been strengthened across fields.

The two sides have maintained meetings and exchanges of all-level delegations. MERCOSUR is Vietnam's 13th largest trading partner with two-way trade increasing by nearly 5 times, from 2.45 billion USD in 2011 to 12 billion USD in 2022. Trade flows between MERCOSUR and Vietnam account for nearly a quarter of the total trade flows between MERCOSUR and ASEAN.

However, the Vietnamese top legislator said the results are not commensurate with the existing potential, especially in trade and investment, noting that the main reason for this is that the two sides have not had a free trade agreement (FTA).

Vietnam has completed an internal review related to FTA negotiations with MERCOSUR, he stated, expressing the hope that the two sides will soon start negotiations towards signing the Vietnam-MERCOSUR FTA to facilitate bilateral trade and investment activities.

This is especially important in the context that investment flows and global supply chains are disrupted due to the impact of the COVID-19 pandemic and complicated and unpredictable developments in the world, Hue added.

Hue said Vietnam signed a number of cooperation agreements, framework agreements, and memorandums of understanding on cooperation in science-technology and other fields with member countries of MERCOSUR such as Argentina and Brazil, but cooperation with MERCOSUR as a bloc in these areas remains limited.

The Vietnamese NA has cooperative relations with the parliaments of 164 countries around the world, including bilateral cooperation relations with all parliaments of MERCOSUR members, Hue noted, saying that the Vietnamese NA is willing to contribute to connecting PARLASUR and the ASEAN Inter-Parliamentary Organisation.  

The PARLASUR's leaders expressed great interest in the possibility that Vietnam can serve as a gateway for MERCOSUR to enter ASEAN, and affirmed that they back the early start of negotiations for the Vietnam - MERCOSUR FTA.

They suggested soon establishing a direct cooperation mechanism between the Vietnamese NA and PARLASUR, thus promoting cooperation agreements between Vietnam and MERCOSUR.

On the occasion, the two parliaments issued a joint press statement.