State President Phuc warmly welcomed in Phnom Penh
Thứ Ba, 21/12/2021, 17:46
Cambodian King Norodom Sihamoni hosted a ceremony at the Royal Palace on December 21 to welcome Vietnamese President Nguyen Xuan Phuc who arrived in Phnom Penh the same for a two-day visit to Cambodia.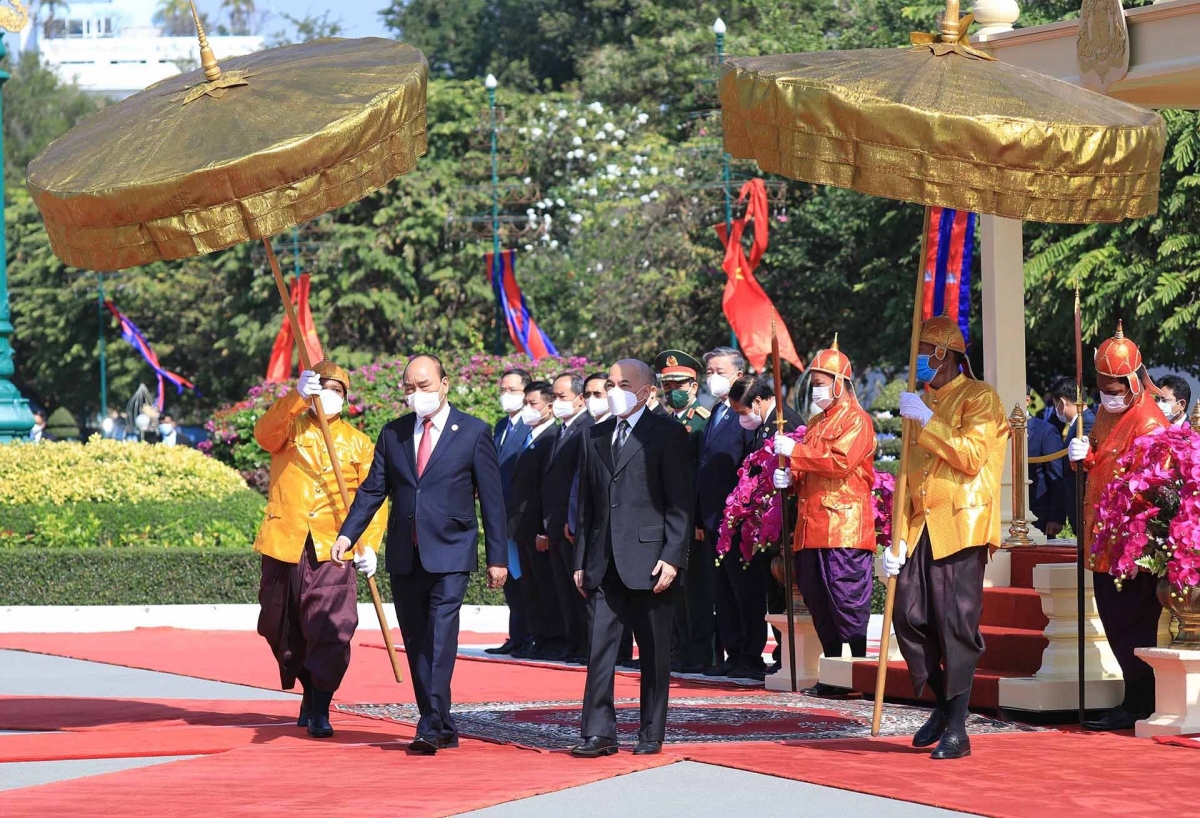 King Sihamoni invited President Phuc to step on the podium while military bans were playing the national anthems of Vietnam and Cambodia.
The King then invited the Vietnamese President to review the guard of honour.
Following the welcoming ceremony, both the Cambodia King and Vietnamese President met on the traditional friendship, solidarity and comprehensive cooperation between the two counties.
President Phuc also met with Cambodian Prime Minister Samdech Techo Hun Sen and witnessed the signing and exchange of cooperation documents between the two countries.
He is scheduled to meet with leaders of the Cambodian National Assembly and attend the groundbreaking ceremony of the National Assembly Administration Building - a project funded by Vietnam.
This is the first visit to Cambodia by President Phuc and by the first high-ranking Vietnamese leader in the past two years since the outbreak of the COVID-19 pandemic.
Over the recent times, the good neighborly relations, traditional friendship, comprehensive cooperation between Vietnam and Cambodia have constantly achieved positive results. Both countries have maintained regular contact and exchanges in a flexible form to outline future cooperation in all channels and fields.
The two countries have regularly cooperated and coordinated at regional and international forums, especially within the framework of the United Nations, ASEAN and sub-regional cooperation mechanisms, including the greater Mekong Sub-region.