Vietnam, India treasure time-honoured friendship
Thứ Bảy, 20/05/2023, 17:21
Prime Minister Pham Minh Chinh and his Indian counterpart Narendra Damodardas Modi affirmed their recognition of the great importance of the traditional and long-standing friendship that exists between the two countries at their meeting held on May 20 in Hiroshima in Japan.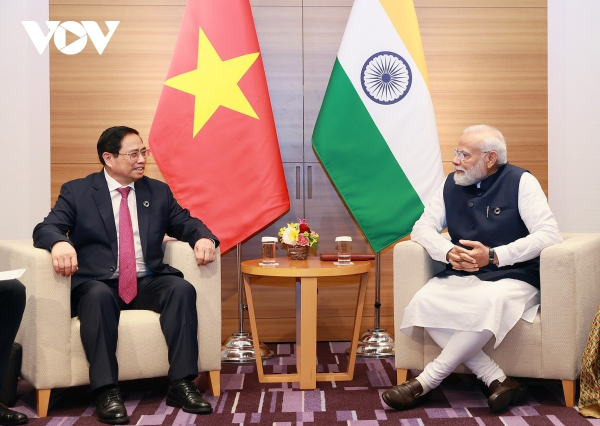 The two PMs discussed a range of measures aimed at realising the vision of developing a comprehensive strategic partnership, emphasizing the importance of high-level exchanges, meetings, as well as substantive and effective co-operation across a variety of fields.
PM Chinh congratulated the Indian side on their achievements under the leadership of PM Modi, especially impressive economic growth, science and technology rising to a high level, along with India's role and position becoming increasingly valued in the region and in the world.
Affirming that both sides share many similar strategic interests, the Vietnamese Government leader suggested that the two sides continue to strengthen all-around  ties, with priority given to maintaining political, diplomatic, and co-operative relations in the fields of need of the two countries. This includes trade and investment, services, finance and banking, tourism, science and technology, innovation, along with boosting ties to respond to common challenges amid the world facing crises and uncertainties.
PM Modi expressed his pleasure at meeting PM Chinh again, while highlighting Vietnam as one of the leading strategic partners in the Indo-Pacific Strategy, India's "Act East" policy.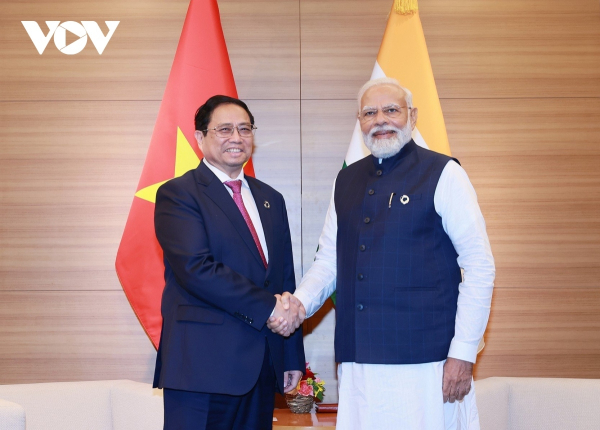 He thanked the Vietnamese side for attending the Southern Forum and jointly enhancing the role and voice of developing countries, adding that bilateral trading ties have developed very positively over recent times, with last year's trade turnover reaching nearly US$15 billion.
Regarding future orientations, the Indian PM said that economic-trade co-operation continues to be an important pillar in the bilateral relationship, agreeing to continue to promote consultation and dialogue mechanisms, expand co-operation in fields of complementary advantages, whilst closely working together and sharing views on international and regional issues of shared concern.
The two sides agreed to strengthen mutual support and co-ordination at international and regional forums, especially at the UN, as well as at ASEAN-led mechanisms and within the framework of Mekong-Ganga co-operation.
The two government leaders underscored the importance of maintaining peace, stability, security, safety, freedom of navigation and aviation, and upholding international law, calling on all parties to fully and effectively implement the Declaration on the Conduct of Parties in the East Sea (DOC) and soon finalise a substantial and effective Code of Conduct in the East Sea (COC). This should be done in line with international law and the UN Convention on the Law of the Sea (UNCLOS) 1982, thus creating conditions to settle disputes in the East Sea by peaceful means.
The two leaders also compared notes on a number of specific measures and orientations to create favourable conditions for businesses of each country to access their markets, conduct business, and exploit the potential and good co-operation between the two countries.
PM Modi cordially invited PM Chinh to visit India at a convenient time this year, with his invitation being graciously accepted.