Vietnam proposes ASEAN and GCC foster economic, trade, investment cooperation
Thứ Bảy, 21/10/2023, 22:16
The Association of Southeast Asian Nations (ASEAN) and the Gulf Cooperation Council (GCC) should work closely together to make economic-trade-investment cooperation a major pillar and a driving force connecting the two regions for mutual development and win-win results.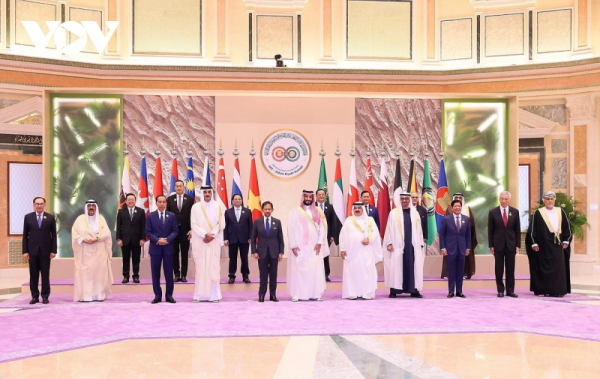 Vietnamese Prime Minister Pham Minh Chinh made the proposal at the first ever ASEAN-GCC summit that opened in Riyadh, Saudi Arabia, on October 20.
"We need to introduce more open policies, further open the market, remove barriers, and build more complete and sustainable supply chains to create conditions for investment funds and businesses of all GCC countries to further expand business investment in ASEAN, and for goods and services from ASEAN countries to further penetrate the Gulf region," said Chinh.
To that end, he said ASEAN and Vietnam wish to promote cooperation with GCC towards greener and more sustainable development goals.
The two sides need to prioritize cooperation in developing the green economy, digital economy, circular economy, sharing economy, sustainable agriculture and energy transition, among others, he stressed. h
According to the Prime Minister, the most important thing is to foster three major pillars of connections, namely people, culture, and labur; trade - investment - tourism; and infrastructure, through increasing investment in strategic infrastructure.
In addition, the Prime Minister also proposed that the two sides quickly institutionalize ASEAN - GCC cooperation with regular, substantive and effective cooperation mechanisms in each specific field, while strengthening multilateral cooperation to jointly maintain a peaceful and stable environment for development.
As leading organisations in the two regions, he said ASEAN and GCC need to support each other to promote their central role and make practical contributions to peace, stability and development of the two regions and the wider world.
On this occasion, he voiced Vietnam's strong opposition to any use of force regarding escalating tensions in the Middle East and called on relevant parties to immediately stop acts of violence against civilians, humanitarian facilities and essential infrastructure.
Vietnam believes that only talks and negotiations can resolve disagreements through peaceful means in order to reach a two-state solution on the basis of international law and relevant resolutions of the UN Security Council, and this is the only way to bring lasting, sustainable peace to the Middle East and all countries, stated the PM.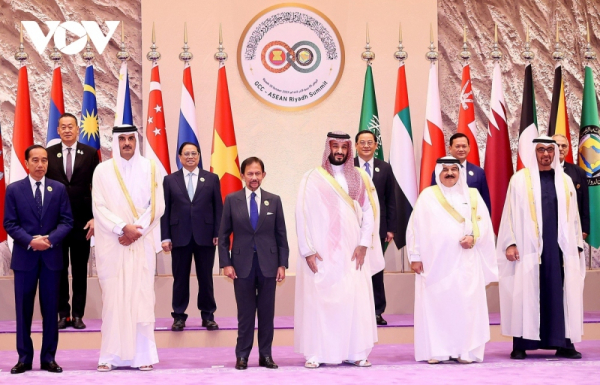 This is the first time ASEAN and GCC have held the summit to work out a strategic cooperation plan between the two sides since their establishment of relations in 1990 and adoption of their Joint Vision in 2009.
The summit takes place amid rapid and complex developments regionally and globally. Dialogue and cooperation have become an urgent need of countries, especially small and medium-sized countries.
ASEAN advocates deeper relations with big countries and expanded relations with all countries and organizations around the world, in order to take advantage of resources to build the ASEAN Community, promote recovery and sustainable development, and build a favorable environment for dialogue and cooperation.
Meanwhile, GCC that is comprised of Saudi Arabia, the United Arab Emirates, Qatar, Kuwait, Bahrain and Oman follows a moderate foreign policy, promotes the Look East policy, and fosters stronger cooperation with Southeast Asia.
The summit aims to improve economic and trade relations between the two blocs, particularly in energy, low carbon technology, and financial and banking cooperation.