ASEAN members strengthen cooperation in disaster management
Thứ Ba, 17/10/2023, 11:02
PSNews - The 11th ASEAN Ministerial Meeting on Disaster Management (AMMDM), took place on October 12, successfully adopted a Ha Long declaration on increasing early actions in disaster management in ASEAN.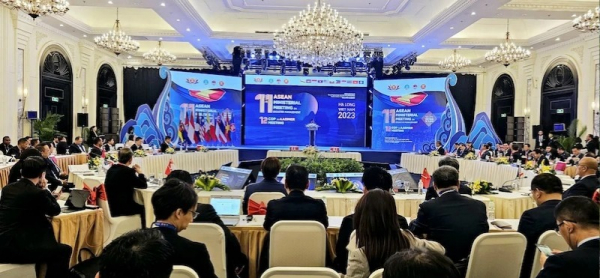 The event gathered eight ministers, four deputy ministers, and over 140 other delegates who are leaders and officials of disaster prevention and control agencies of 10 ASEAN member countries, the ASEAN Secretariat, the ASEAN Coordinating Centre for Humanitarian Assistance on Disaster Management (AHA Centre), development partners of the group (China, the Republic of Korea, and Japan), and some international organizations in the region. Timor-Leste attended the meeting as an observer.  
In his opening remarks, Vietnamese Minister of Agriculture and Rural Development Le Minh Hoan stressed that despite being a dynamic and developing region in the world, the Association of Southeast Asian Nations (ASEAN) still has to confront various challenges due to climate change and natural disasters.
He underlined joint efforts made by the ASEAN member countries in establishing and implementing cooperative mechanisms with visionary directions progressively strengthened and developed, in order to address the above-mentioned challenges.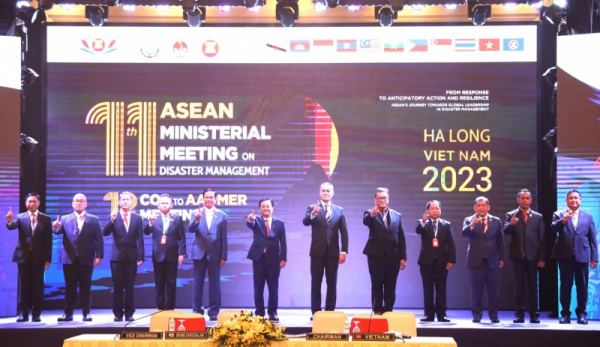 At the meeting, participants adopted a Ha Long declaration on increasing early actions in disaster management in ASEAN.
In particular, the Ha Long Declaration underscored the commitment of ASEAN ministers to enhance the implementation of early action in disaster management within ASEAN, with a special focus on the three main pillars: risk information, forecasting and early warning systems; planning, operation and implementation; and the promotion of pre-allocated financial resources.
The ministers emphasized the continuous efforts aimed at realising the ASEAN Vision 2025 for disaster management to make ASEAN a pioneering region in changing the landscape of disaster management within and outside the ASEAN region.
Additionally, they sought to strengthen ASEAN's leadership role in maintaining its central position, adopting innovative approaches, building sustainable financial systems, multi-sectoral and multilayered management, with people at the core by the year 2025.
The ministers reaffirmed their commitment to support the implementation of the ASEAN Early Warning Action Framework.
They recommend that the ASEAN Committee on Disaster Management (ACDM) and the Board of Directors of the ASEAN Regional Coordination Centre for Humanitarian Disaster Assistance (AHA Centre) conduct research and establish mechanisms for sharing high-quality data within the region and with their partners.