Vietnamese, Lao Parties hold eighth theoretical workshop via videoconference
Thứ Sáu, 17/12/2021, 11:54
The eighth theoretical workshop between the Communist Party of Vietnam (CPV) and the Lao People's Revolutionary Party (LPRP) took place via videoconference on December 16.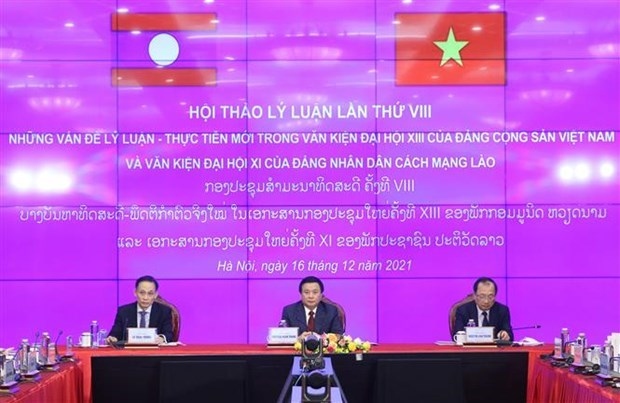 The CPV delegation to the workshop was led by Chairman of the Party Central Committee's Theoretical Council and President of the Ho Chi Minh National Academy of Politics (HCMA) Nguyen Xuan Thang; while the LPRP delegation was headed by Chairman of the LPRP Central Committee's Theoretical Council and head of the Party Central Committee's Commission for Propaganda and Training Khamphanh Pheuyavong.
In his remarks, Thang affirmed the workshop's role in helping the two Parties clarify emerging theoretical and practical issues stated in documents of the 13th National Congress of the CPV and the 11th National Congress of the LPRP, and share experience, bolster mutual understanding to further deepen the great friendship, special solidarity and comprehensive cooperation between the Parties, States and people of Vietnam and Laos.
Vietnamese and Lao scientists discussed new theoretical and practical issues introduced by the two Parties' documents on the building and rectification of the Parties and the political systems; development of the socialist-oriented market economy, culture, national defence, security and external affairs, and matters of mutual concern.The Parties' Theoretical Councils inked a cooperation agreement for the 2022-26 at the event.