Fire and rescue police force asked to enhance fire prevention
21:35 05/07/2021
PSNews – The Police Department of Fire and Rescue (PDFR) under the Ministry of Public Security (MPS) on July 2 held a meeting to review its task performance in the first half of 2021.

Major General Le Quoc Hung, Member of the Party Central Committee and Deputy Minister of Public Security, attended and delivered a speech at the meeting. Major General Nguyen Tuan Anh, Director of the PDFR chaired the event.
According to reports at the meeting, in the first half of 2021, the fire and rescue police force strictly followed the direction of the Government and the MPS, implemented drastic measures and solutions to improve the efficiency of State management in the fields of fire prevention and fighting and rescue.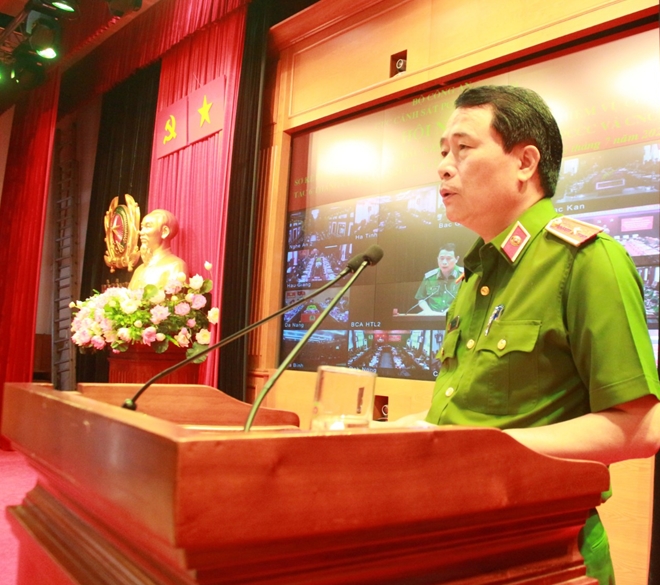 Deputy Minister Le Quoc Hung speaking at the event.
The fire and rescue force also launched intensive campaigns to prevent fire in industrial zones and manufactures or warehouses at high risks of fire and explosion, and successfully conducted firefighting and rescue missions.
Speaking at the event, Deputy Minister Le Quoc Hung recognized and hailed the efforts and achievements of the PDFR in the first half of 2021.
In the coming time, Deputy Minister Le Quoc Hung asked the PDFR to continue effectively implementing the directions of the leaders of the Party, the State and the MPS on strengthening the Party's leadership over fire prevention and fighting activities while advising higher-level authorities to complete policies and laws on fire prevention and fighting, and proposing plans to perfect the fire police models at district and provincial levels.
Additionally, the PDFR should enhance digital transformation by building a database on fire prevention plans and early fire warnings, quickly implement a project to send fire warnings on mobile networks to people, and collaborate with the Ministry of Information and Communications to enhance dissemination on fire safety.
On this occasion, under the authority of the Minister of Public Security, Deputy Minister Le Quoc Hung awarded Certificates of Merit to 2 organizations and 4 individuals of the Hai Phong Municipal Police Department for their outstanding achievements in fire prevention and fighting and rescue.