MPS leader urges implementation of vaccination campaign
18:00 23/07/2021
Senior Lieutenant General Nguyen Van Son, Deputy Minister of Public Security, on July 22 worked with leaders of the the Department of Health, Hospital of Traditional Medicine and Hospital 198 under the Ministry of Public Security (MPS) to review the implementation of the vaccination campaign for public security officers and soldiers.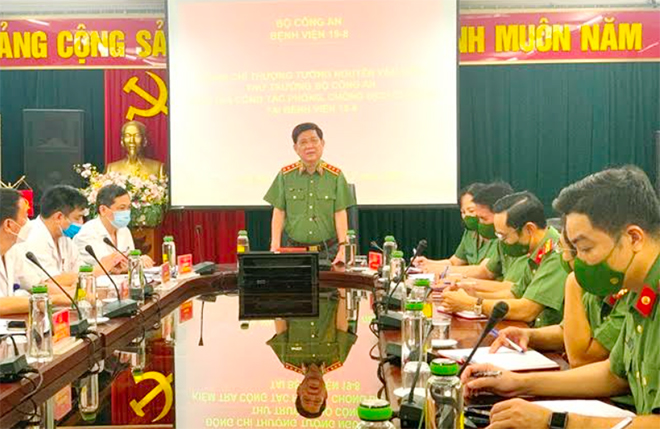 Deputy Minister Nguyen Van Son speaks at the event.
Speaking at the event, Deputy Minister Nguyen Van Son applauded the efforts of the public security health delegation previously deployed to Bac Giang in support of local forces in prevention and combat of the COVID-19 pandemic. Their efforts were recognized and honored by local authorities.
Given the complicated developments related to the pandemic in southern areas, especially in HCMC, the Public Security Forces, including the public security health sector, are playing an important role in the fight against the pandemic.
Doctors and health workers of Hospital 199 deployed to HCMC and other southern areas are effectively operating 3 field hospitals.
The public security health workers have made great contributions to controlling the pandemic in the southern region.
Deputy Minister Nguyen Van Son also said that the MPS has received 132,800 more doses of vaccine, and noted that the vaccination campaign should be implemented in a quick and effective manner. The Public Security Health Department and the two hospitals have been assigned to carry out the vaccination campaign in the Public Security Forces as soon as possible and in a safe manner.
The public security health sector should stay ready to send more reinforcements to southern areas upon request.