Minister To Lam makes phone call to Secretary of the Security Council of Russia
Thứ Tư, 11/11/2020, 19:32
PSNews - General To Lam, Minister of Public Security (MPS) made a phone call to General Patrushev Nikolay Platonovich, Secretary of the Security Council of the Republic of Russia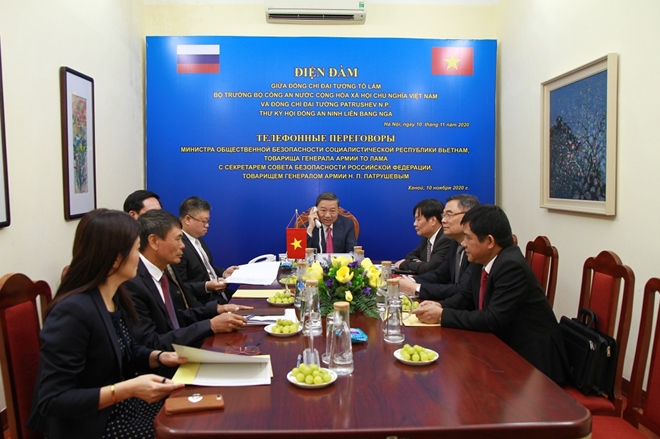 Minister To Lam is on the phone with General Patrushev Nikolay Platonovich.
At the conversation, on behalf of the MPS of Vietnam, Minister To Lam extended his deep sympathy for the country over the damage caused by the COVID-19, and highly appreciated drastic measures of the Russian Government in response to the pandemic, successfully produced the vaccine againstCOVID-19.
To Lam believed that Russia would soon overcome the pandemic, and thanked Russia for providing medical experts and equipment for Vietnam to prevent the COVID-19 pandemic as well as caring and supporting the Vietnamese community in Russia amid the pandemic.
He also affirmed that Vietnam is always ready to coordinate with Russia in dealing with issues of mutual concern during the timeVietnam is the rotational Chair of ASEAN and non-permanent member of the United Nations Security Council.
Vietnam will continue to promote cooperation between ASEAN and Russia, as well as cooperation between ASEAN and the BRICS (acronym for Brazil, Russia, India, and South Africa) and the CSO (Shanghai Cooperation Organization).
Particularly, the Vietnamese Ministry of Public Security supports the establishment of an ASEAN-Russia High-Level Security Dialogue Mechanism and is actively working with ASEAN countries to adopt the mechanism.
In order to deepen the relationship between law enforcement agenciesof the two countries, Minister To Lam suggested that the two sides should increase the exchange of delegations so as to effectively implement the Memorandum of Understanding between the MPS of Vietnam and the Office of the Security Council of Russia in the field of security on cooperation in the fight against terrorist, organized and transnational crimes, hi-tech crimes, drug-related crimes, and human trafficking as well as in training for Vietnamese public security officers.
General Patrushev Nikolay Platonovich thanked Minister To Lam for his time on the phone, affirming that he will urge relevant agencies of Russia to further strengthening the relationship between the two sides in the coming time.