Minister To Lam works with Environmental Police Department
Thứ Tư, 19/05/2021, 11:31
PSNews - General To Lam, Member of the Politburo and Minister of Public Security, chaired a meeting on May 17 with the Environmental Police Department (EPD).
Lieutenant General Nguyen Duy Ngoc, Member of the Party Central Committee and Deputy Minister of Public Security, and representatives of the Office of the Ministry of Public Security (MPS) also attended the event.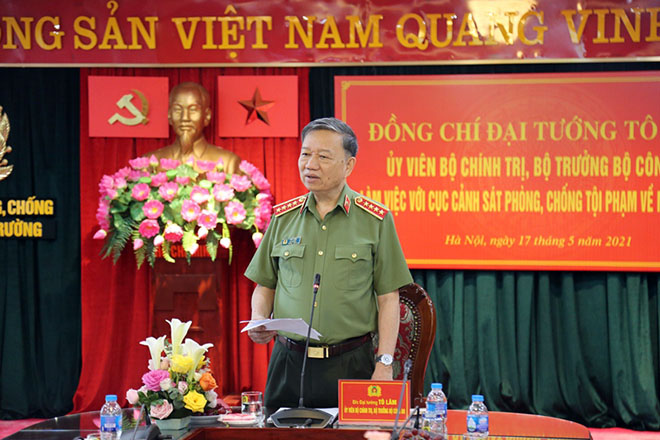 Minister To Lam speaks at the event.
At the meeting, Major General Tran Minh Le, Director of the EPD briefed the Minister on the environmental police force's results of preventing and fighting environmental crimes and handling law violations related to environment over the past time.
According to the Major General Le, the EPD has actively researched and advised its upper levels in building and revising legal documents related to the environmental protection.
Deputy Minister Nguyen Duy Ngoc speaks at the event.
Since 2016, the environmental police force has detected and handled over 113,100 cases of law violations related to environment, natural resources and food safety while imposing total administrative fines of over VND1,530 billion in 104,100 cases.
Following the Minister's Directive No. 06 on enhancing the application and development of information technology for work, the EPD has been researching and building a database on nationwide environmental crime situations for specific use of the environmental police force as well as closely coordinating with relevant units under the MPS to connect it with the National Population Database as well as other specialized databases of the Public Security Forces.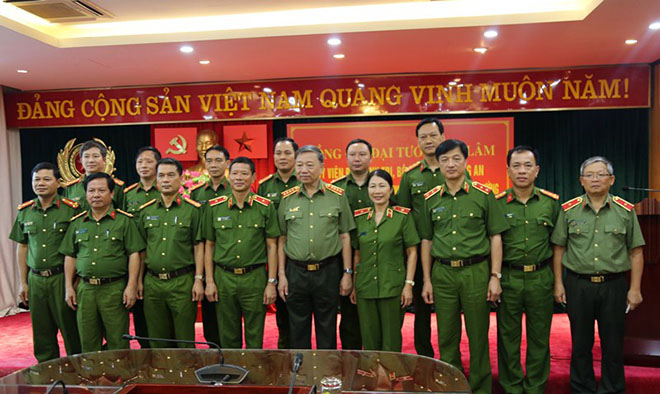 Minister To Lam, Deputy Minister Nguyen Duy Ngoc and other delegates at the event.
To conclude the meeting, Minister To Lam acknowledged the efforts of the EPD and the environmental police force over the past time.
Regarding its key tasks in the coming time, Minister To Lam asked the EPD to uphold its sense of responsibility and take innovative and effective measures to fight environment-related crimes, contributing to promoting sustainable development of the country.
In addition, the EPD should pay attention to advising the MPS's leadership on issues related to environmental protection as well as the drafting of legal documents, regulations, policies, and measures to improve the effectiveness and efficiency of the fight against environmental crimes.
The department should also further promote coordination between the environmental police force and relevant agencies and units inside and outside the Public Security Forces.