Deputy Minister Le Quoc Hung works at Security Guard Command
Thứ Bảy, 30/04/2022, 14:06
PSNews - Lieutenant General Le Quoc Hung, Deputy Minister of Public Security, worked with leaders of the Security Guard Command on April 26.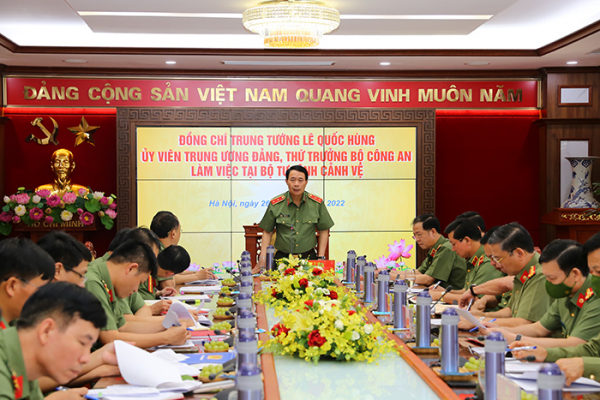 At the meeting, Major General Tran Hai Quan, Commander of the Security Guard Command, briefed Deputy Minister Le Quoc Hung on issues related to the building of legal documents on security guard missions, personnel, organization, training, logistics, as well as projects run by the command over the past time.
Speaking at the meeting, Deputy Minister Le Quoc Hung asked the Security Guard Command to coordinate with relevant units to review the 2017 Law on Security Guard Force and find out limitations, inadequacies related to the law, and report them to the Ministry of Public Security's leadership for consideration.
Regarding the strength and organization and of the Security Guard Force, the Deputy Minister said that, as the Security Guard Command is entrusted by the Minister of Public Security to train first-year cadets for public security schools, the command should develop appropriate training programs and ensure sufficient facilities for the training courses for public security fresh cadets.
The Deputy Minister also asked the command to continue improving the quality of human resources to meet the requirements in the new situation while consolidating its organizational apparatus and attaching importance to expanding coordination and cooperation with domestic and international partners in training.