Deputy Minister Le Quoc Hung works with Binh Phuoc police on COVID-19 prevention and fight
15:20 12/08/2021
PSNews – Major General Le Quoc Hung, Member of the Party Central Committee, Deputy Minister of Public Security and Commander of the Ho Chi Minh-based Interim Field Command of the Ministry of Public Security (MPS) on August 9 worked with the Binh Phuoc Provincial Police Department on COVID-19 pandemic prevention and control.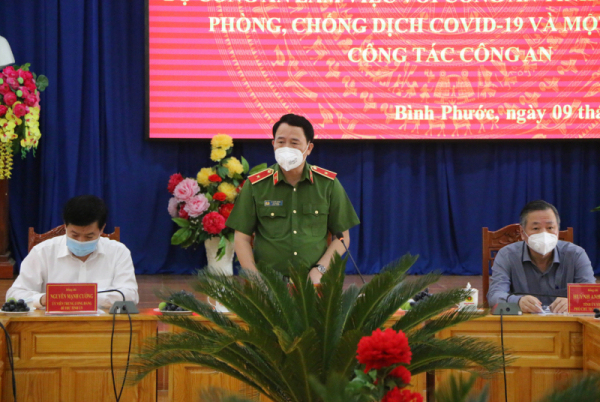 At the meeting, Senior Colonel Bui Xuan Thang, Director of the Binh Phuoc Provincial Police Department briefed the Deputy Minister on the approaches and efforts of the local forces to prevent and combat the pandemic.
In particular, since the fourth outbreak of the COVID-19 pandemic, the Binh Phuoc Police Department has strengthen control and management of people's entry into and exit from the locality, at the same time trace COVID-19 suspects upon request.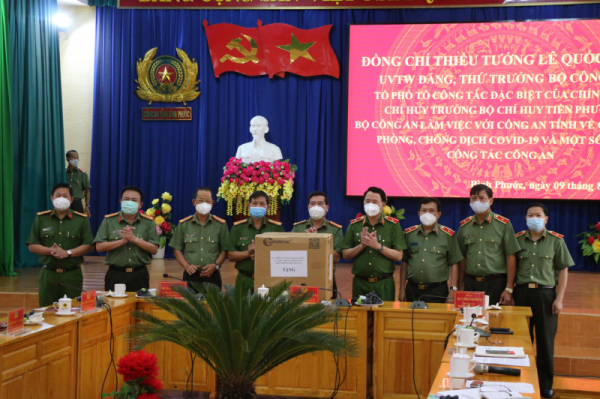 The provincial police department also mobilized forces to ensure security and order in 77 concentrated quarantine zones and COVID-19 treatment areas. The local police also participated in safeguarding 564 local COVID-19 checkpoints on roads and 65 COVID-19 checkpoints along the border.
In his keynote speech, Deputy Minister Le Quoc Hung stressed that Binh Phuong Province is now the only "green zone" in the Southeast region. Therefore, this is the golden time for Binh Phuoc to prevent the pandemic.
The Deputy Minister asked the Binh Phuoc Police Department to proactively advise local authorities to take more drastic approaches to control and manage people returning home from pandemic-hit areas, while setting up quick response forces at all levels to trace COVID-19 suspects.
The local police were also urged to review and set up more COVID-19 checkpoints while ensuring safety for the  forces working on the frontline of the fight against COVID-19.