Deputy Minister Le Quoc Hung works with Lam Dong police on COVID-19 prevention and combat
09:22 10/08/2021
Major General Le Quoc Hung, Deputy Minister of Public Security, on August 8 visited and worked with the Lam Dong Provincial Police Department to discuss measures to prevent and combat COVID-19.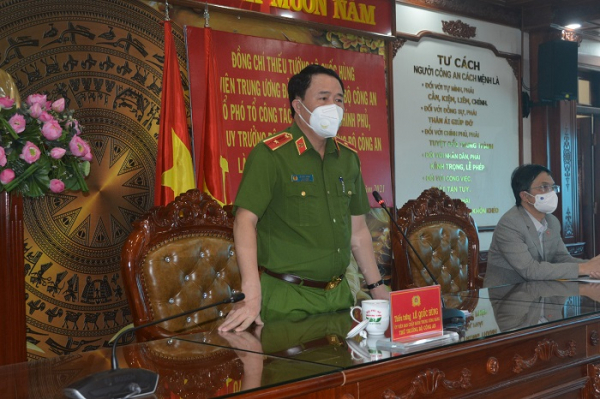 At the meeting, Senior Colonel Tran Minh Tien, Director of the Provincial Police Department, briefed the Deputy Minister and other delegates on their approaches and efforts to prevent and combat the pandemic.
Speaking at the event, Deputy Minister Le Quoc Hung applauded the anti-pandemic efforts of the provincial police.
He also asked the provincial police to identify and scientifically zone out epidemic areas, take all measures to promptly trace people suspected of COVID-19 infection.
The provincial police should ensure smooth traffic flows on local and national roads, avoid disrupting the supply chain of agricultural products and goods from Lam Dong to Ho Chi Minh City and other southern provinces and cities.
The Deputy Minister asked the provincial police to strictly check medical declarations and travel permits of drivers, and strictly handle drivers who violate regulations on epidemic prevention and control.
Additionally, the provincial police should take drastic measures to prevent and handle all acts of taking advantage of the epidemic to make illegal profits or distort information about the pandemic causing negative impacts on the public.
He also highlighted the importance of pandemic prevention and control in criminal detention facilities in the province.
Deputy Minister Hung also affirmed that all proposals made by the provincial police would be submitted to the ministry's leadership for consideration.