Deputy Minister Le Quoc Hung works with Thai Nguyen police
15:48 02/09/2021
Major General Le Quoc Hung, Deputy Minister of Public Security, led a delegation to work with the Provincial Police Department of Thai Nguyen on September 1.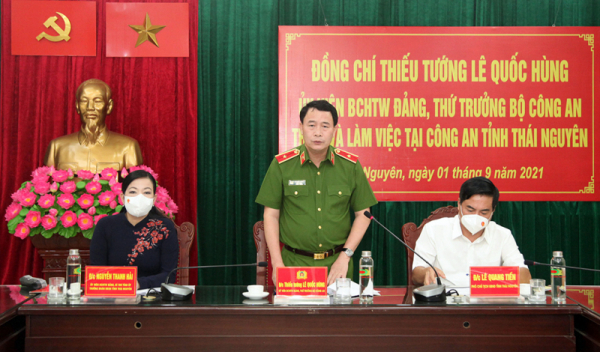 Senior Colonel Bui Duc Hai, Director of the Provincial Police Department, briefed the delegates to the working session on the security and order situation in the province over the past 8 months.
Notably, the provincial police successfully ensured security and safety for the Party's 13th National Congress, the 15th National Assembly and People's Committee elections at all levels.
The rate of crime in the province reduced by 3.7% compared to the same period last year while 92% of the criminal cases were successfully investigated. The police destroyed 770 drug-related cases, arrested 840 people involved, seized 3.8 kg of heroin and 10 kg of synthetic drugs.
Additionally, the provincial police also actively joined local efforts in prevention and combat of the COVID-19 pandemic.
Speaking at the event, Deputy Minister Le Quoc Hung appreciated the effort and achievements gained by the provincial police of Thai Nguyen in ensuring security and order, and in COVID-19 prevention and fight.
He urged the provincial police to take measures to ensure political security, social order and safety, especially in industrial zones, while reducing criminal rates as well as enhancing administrative reforms, digital transformation, and paying more attention to promoting the role of police force at the grassroots level.
The provincial police should coordinate closely with functional forces in preventing and controlling the COVID-19 pandemic, develop plans to prevent infection of Coronavirus in localities of the province, especially in detention facilities.