Deputy Minister Nguyen Duy Ngoc works with An Giang Police Department
16:55 07/11/2021
Lieutenant General Nguyen Duy Ngoc, Deputy Minister of Public Security, on November 6 worked with the Provincial Police Department of An Giang on ensuring security and order during and after the pandemic.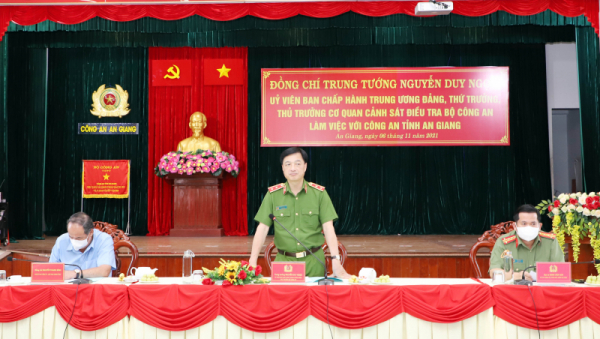 The working session saw the presence of Chairman of An Giang Provincial People's Committee Nguyen Thanh Binh and representatives from relevant units under the Ministry of Public Security.
Senior Colonel Dinh Van Noi, Director of the Provincial Police Department of An Giang, briefed the deputy minister and other delegates on results of the task performance of the provincial police over the past time, especially their efforts in prevention and combat of the COVID-19 epidemic.
Speaking at the event, Mr. Nguyen Thanh Binh applauded the efforts of the provincial police in ensuring security and public order as well as in preventing and controlling the pandemic  in the province, particularly in border areas.
Deputy Minister Nguyen Duy Ngoc appreciated the efforts of the provincial police over the past time. He stressed that criminals would intensify their activities after the province eased the COVID-19 restrictions and returned to the new normal. In this context, he urged the provincial police to take measures to prevent and fight both crime and the epidemic, contributing to socio-economic development in the province.
Regarding prevention and combat of drug-related crimes, Deputy Minister Ngoc asked the provincial police to pay more attention to security hotspots and draw up action plans in accordance with the real situation.
They should regularly update information and data of local residents, including data on vaccination, on the national population database, and speed up the issuance of chip-based ID cards.