Deputy Minister Nguyen Duy Ngoc works with Hanoi Police on crime prevention and control
20:49 17/09/2021
Lieutenant General Nguyen Duy Ngoc, Deputy Minister of Public Security (MPS), led a delegation to work with the Hanoi Police on ensuring security and social order, on September 16.
Over the past time, despite negative impacts of the COVID-19 pandemic, the Hanoi police have still reached their set targets  regarding crime prevention and control.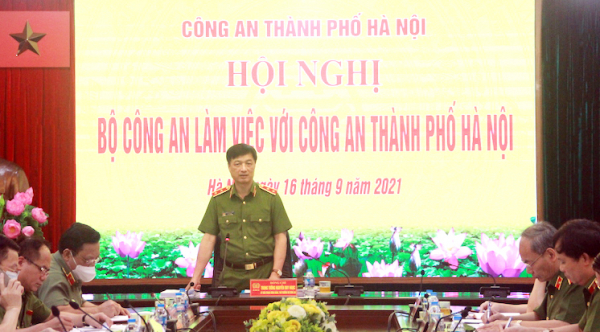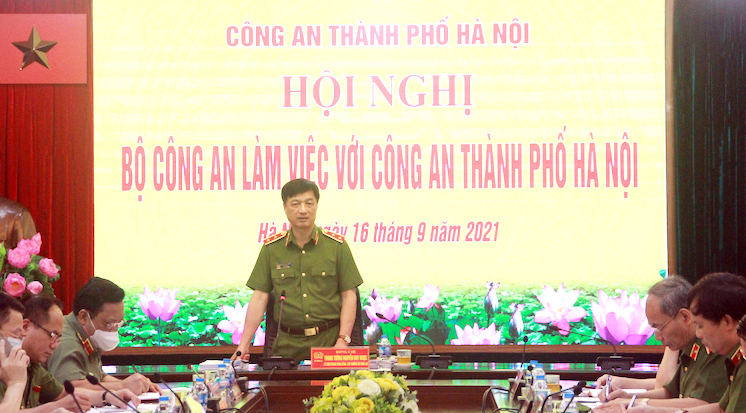 Accordingly, the number of social order violation cases was reduced while the rate of successfully investigated criminal cases reached 87.4%, while 98.7% of the serious criminal cases was solved.
The investigation of economic, drug, and environmental criminal case was another success of the local police forces.
Besides, the Hanoi police with their great efforts and creative methods have completed the tasks regarding the National Population Database Project and the e-ID Project assigned by the MPS.
So far, the Hanoi police have collected over 6 million citizen's applications for e-IDs.
Speaking at the meeting, Deputy Minister Nguyen Duy Ngoc noted that the Hanoi police have to be fully aware of the local complicated situation of crime, social evils as well as criminals' methods and tricks during and after the COVID-19 pandemic, and therefore take appropriate and effective measures to prevent and fight against crimes.
The Deputy Minister asked the Hanoi Municipal Police Department to improve the efficiency of its leadership, direction and inspection of local police subunits' task performance while attaching to the organizational restructuring, discipline observance. The Hanoi police leadership should also encourage and praise policemen with outstanding achievements.
* On the same day, Deputy Minister Nguyen Duy Ngoc and the delegation visited and worked with the police of Me Tri Ward, Nam Tu Liem District, Hanoi.