Deputy Minister Nguyen Duy Ngoc works with Dong Nai police
17:59 07/11/2021
Lieutenant General, Deputy Minister Nguyen Duy Ngoc, leading a delegation of the Ministry of Public Security (MPS), worked with the Provincial Police Department of Dong Nai on November 6.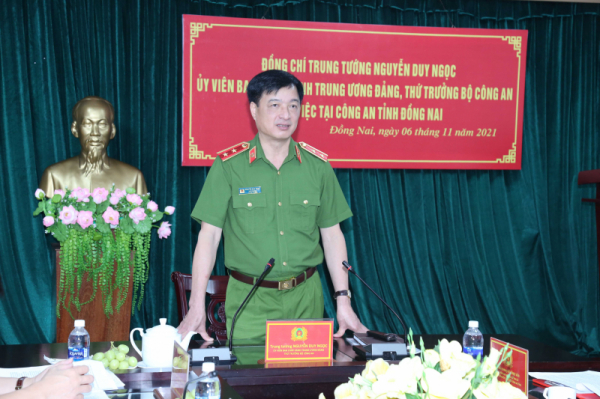 At the meeting, Senior Colonel Nguyen Ngoc Quang, Vice Director of the Provincial Police Department, briefed the deputy minister and other delegates on the provincial police's achievements in fighting against drug-related crimes, ensuring security and order, and updating the National Population Database with local residents' vaccination data.
Speaking at the event, Deputy Minister Nguyen Duy Ngoc valued the efforts and achievements of the provincial police in preventing and fighting against crimes and the pandemic.
He asked the provincial police to take drastic measures to fight crimes in the coming time, requesting that the provincial police should attach themselves closely to the people while enhancing control of free migration and management of local potential offenders and drug addicts, contributing to maintaining public order and security in the province.