Deputy Minister Tran Quoc To pays working visit to Dak Lak Provincial Police Department
Thứ Hai, 03/04/2023, 08:05
A delegation of the Ministry of Public Security, member of the Party Central Committee and Deputy Minister of Public Security led by Senior Lieutenant General Tran Quoc To, worked with the Dak Lak Provincial Police Department, on the afternoon of March 30, 2023.
The delegation included leaders of agencies under the Ministry of Public Security. The meeting also saw the presence of member of the Party Central Committee and Secretary of the Provincial Party Committee Nguyen Dinh Trung, Vice Chairman of the Provincial People's Committee Vo Van Canh, as well as leaders of local civilian agencies and police units.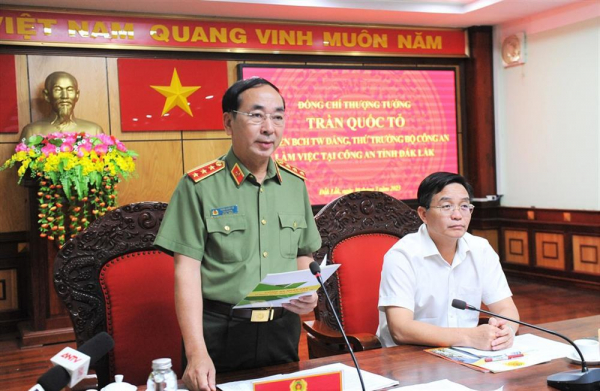 Reporting on results of the task performance of the local police in the first months of 2023, Director of the Dak Lak Provincial Police Department Major General Le Vinh Quy said that the security and order situation in Dak Lak province continued to be maintained without complicated cases.
The provincial police have ensured security and order in the province, promptly detected and defeated all plots and acts of sabotage by hostile and reactionary forces while ensuring safety for political, economic, cultural and social activities in the province.
The local police also drastically attacked crime and achieved positive results; as a result, the clearance rate of common criminal cases reached 96%, including all very serious and specially serious cases cleared.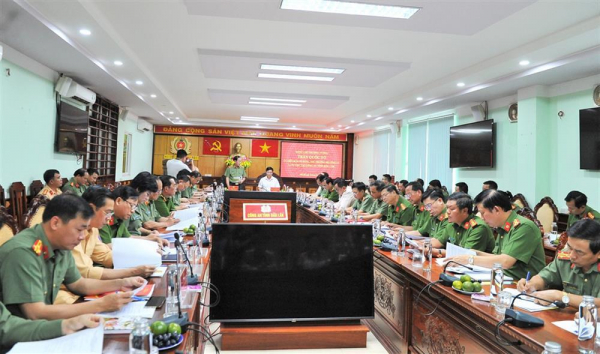 The local police enhanced the reform of administrative procedures, contributing to creating more favorable conditions for local people and businesses. 
Notably, in the first quarter of 2023, the local police force ensured absolute safety for the 8th Buon Ma Thuot Coffee Festival.
At the meeting, delegates pointed out difficulties in preventing and fighting crime, maintaining security and order, and building the provincial police force, especially the regular commune-level police force in border localities.
Speaking at the meeting, on behalf of the Public Security Central Party Committee and leaders of the Ministry of Public Security, Deputy Minister Tran Quoc To suggested that, in the coming time, the Dak Lak Provincial Police Department should step up the Party building in association with force building. 
He requested that each police officer and soldier should regularly "self-check, self-correct", train themselves, maintain internal unity, and strive to build a contingent of politically capable police officers.
At the same time, police officers and soldiers should pay special attention to realizing all resolutions and instructions of the Politburo and the Party Central Committee on Party work in the Public Security Forces, and building truly clean, strong, regular, elite and modern People's Public Security Forces to meet the task requirements in the new situation.