Deputy Minister Tran Quoc To works with PSC 1
Thứ Tư, 19/01/2022, 10:34
Senior Lieutenant General Tran Quoc To, Deputy Minister of Public Security, on January 17 worked with the People's Security College 1 (PSC 1) after attending a ceremony held on the same day to announce the decision to establish a reserve combat police regiment.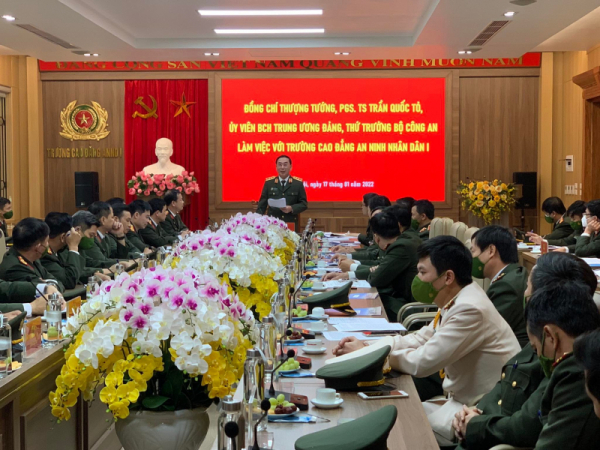 Senior Colonel Tran Van Tuan, Principal of the PSC 1, briefed delegates at the meeting on the outstanding activities and work results gained by the PSC 1 in 2021.
The report read that the college was presented the Certificate of Merit  by the Ministry of Public Security and the "Best in Emulation Movement" Flag by the Provincial People's Committee of Dong Nai for their contribution to  COVID-19 prevention and combat in the southern province, and other titles and awards.
Speaking at the event, Deputy Minister Tran Quoc To recognized the efforts and applauded the achievements gained by the PSC 1 over the past time. But, he also noted several shortcomings that the college should overcome in the coming time.
The PSC 1 was urged to complete and submit its development scheme by 2030 to the leadership of the ministry for consideration.
They should focus on innovating teaching methods, pay more attention to the Party building and development of mass organizations, attach importance to improving the quality of teachers and staff, especially educational managers.