HCMC Police Department reviews local police efforts in COVID-19 prevention and combat
19:54 17/10/2021
The Municipal Police Department of Ho Chi Minh City (HCMC) held a meeting to review the police force's participation in prevention and control of the COVID-19 epidemic.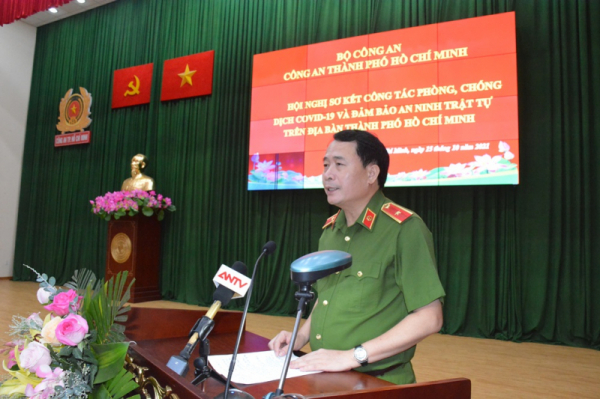 The event saw the presence of Major General Le Quoc Hung, Deputy Minister of Public Security, as well as delegates from the HCMC People's Committee, the MPS Office and relevant units under the MPS.
Senior Colonel Le Quang Dao, Head of the Staff Office under the Municipal Police Department of HCMC, briefed the delegates on results of the police forces' COVID-19 prevention and control as well as ensuring security and order in the city.
Speaking at the event, Deputy Minister Le Quoc Hung emphasized that following the call of General Secretary Nguyen Phu Trong, as well as implementing the directions of the Government, the Central Public Security Party Committee and leaders of the MPS, thousands of officers from under-ministerial agencies, provincial-level police departments, students from public security schools, and health workers from public security hospitals have volunteered to go to COVID-hit localities to support local police forces in ensuring security and order, and controlling the pandemic.
All deployed officers have successfully completed the tasks assigned by leaders of local police units. They braved hardships and dangers, working at the riskiest places.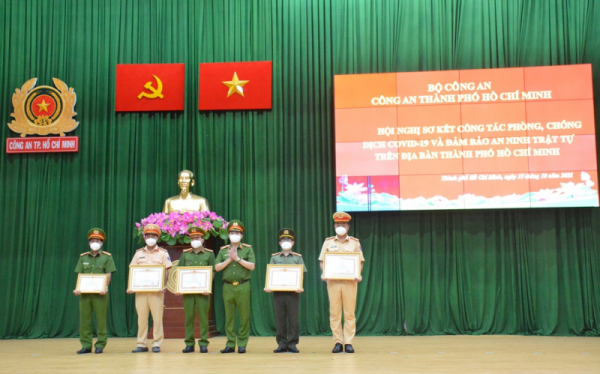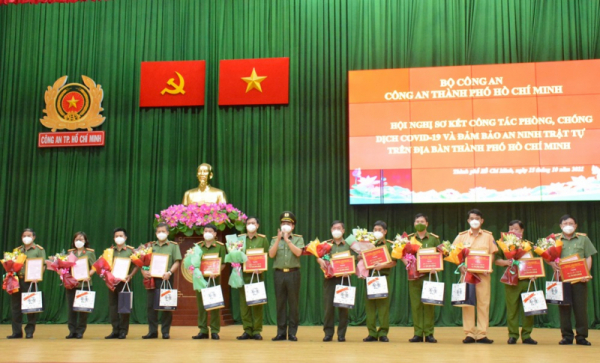 Among the total 12,000 officers sent to the Southern localities, over 1,000 were deployed to HCMC. All of the officers worked on the frontline of the fight against the pandemic and they had no day off over the past 4 months.
On behalf of the MPS leaders, Deputy Minister Le Quoc Hung appreciated all contributions and efforts of the reinforced officers as well as the police forces of HCMC and other Southern localities.
According to him, some the reinforced officers should keep staying in the city and other Southern localities, being ready to deal with issues that may emerge in the post-pandemic time.
Major General Le Hong Nam, Director of the Municipal Police Department, also expressed sincere gratitude to the sacrifice and contribution of the reinforced police forces.
On this occasion, officers and soldiers with outstanding achievements were honored by the MPS and local police leaders.