HCMC police praised for effort in ensuring security, fighting COVID-19
17:51 06/09/2021
PSNews - Recently, the Municipal Police Department of Ho Chi Minh City (HCMC) held a conference to review social distancing enforcement in the city from August 23 to September 2, and roll out a working plan until September 15.
Deputy Ministers of Public Security, namely Lieutenant General Nguyen Duy Ngoc and Major General Le Quoc Hung, and Vice Chairman of the HCMC People's Committee Ngo Minh Chau attended the event.
During 10 days of implementing social distancing measures in HCMC, the Municipal Police Department deployed forces to 886 anti-pandemic checkpoints and stations across the city while providing nearly 1,400 accounts for in-charge officers to check vehicles going through checkpoints via traveling management software.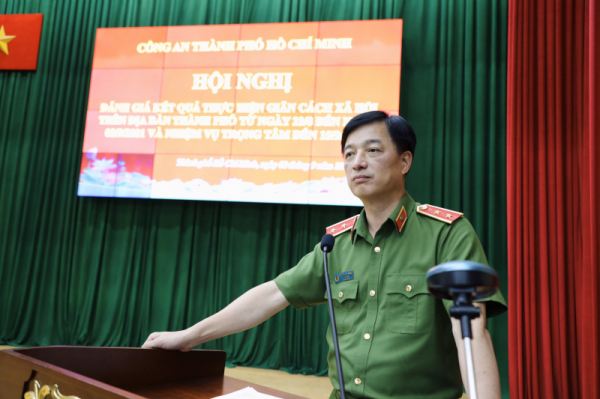 Additionally, the HCMC police have coordinated with local authorities to appraise and issue 128,021 travel permits to those who are allowed to travel in accordance with anti-pandemic regulations.
The local police forces coordinated with agencies and sectors to ensure social security, delivering food and essentials for 746,778 households in locked down areas.
They also conducted patrols and gathered 1,290 vagrants and homeless people to social protection centers in order to minimize the spread of the disease in the community.
In addition to preventing and controlling the pandemic, the HCMC police also maintained security and social order while promptly detecting and strictly handling cases of spreading false information about the COVID-19 pandemic.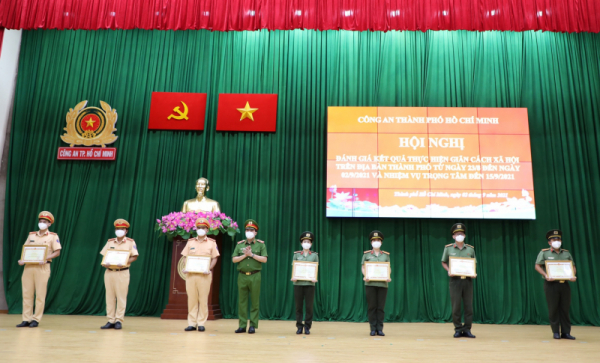 Speaking at the conference, Deputy Minister Nguyen Duy Ngoc praised the effort of the city's police officers and soldiers in fighting the pandemic and ensuring security over the past time.
He requested the HCMC Police Department to continue asking people to make digital medical declarations via applications on the National Population Database, effectively ensure social security and closely monitor COVID-19 vaccinations in the city.
Deputy Minister Ngoc emphasized that, in addition to the task of preventing and controlling the pandemic, police officers and soldiers in HCMC should pay due attention to ensuring security and social order as well as preventing hostile forces from taking advantage of the pandemic to conduct sabotage activities against the Party and State.
On this occasion, Deputy Minister Nguyen Duy Ngoc and Deputy Minister Le Quoc Hung presented Certificates of Merit from the Ministry of Public Security to 15 police officers and soldiers in HCMC for their outstanding achievements in the COVID-19 fight and security and social order protection.