Local police in HCM City offer free meals to medical workers and poor COVID-19 patients
23:26 05/11/2021
During the 4th wave of COVID-19 in the Southern provinces and cities, the Public Security Forces have been active in supporting the health sector and local people and COVID patients.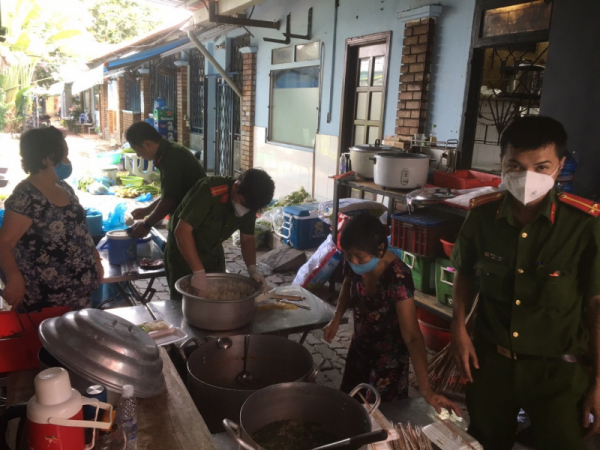 The Police Station of Ward 6, District 5, Ho Chi Minh (HCM) City offered free daily meals to the medical staff and patients at the Phuoc Loc field hospital.
Senior Colonel Tien Thanh Liem, Vice Director of Hospital 304 and in charge of the Phuoc Loc field hospital said that as HCM City has gradually returned to normal life, but the field hospital still admitted more COVID-19 patients transferred from Nha Be district's hospital.
In recent days, the medical staff of the field hospital have been under pressure as the number of infection cases in HCM City still reached nearly 1,000.
By the end of October, 291 out of 498 patients, including police officers, treated at the field hospital had been discharged.
Since August 31st, the medical staff of the 300-bed field hospital have treated COVID-19 patients, including police officers, making contributions to the success of the Public Security Forces in COVID-19 prevention and control.
As the number of severe cases rose recently, the medical staff were under great pressure. Most of the patients treated at the hospital were poor laborers, who could barely afford to buy daily meals.
This moved the doctors so they asked the local police station to provide the poor patients with free meals, helping them and their families overcome the hard time, said Senior Colonel Tien Thanh Liem.
Lieutenant Colonel Tran Hung Anh, , Chief of the Ward 6 Police Station (District 5), said the local police were assigned to support the forces working on the frontline of the fight against COVID-19 as well as poor patients.
Hung Anh said the local police coordinated with a local restaurant to cook and offer meals to poor patients. As the restaurant was closed due to the city's anti-COVID regulations, the staff of the restaurant  voluntarily cooked daily for meals for poor patients.
During the city's lockdown, the local police in coordination with the restaurant offered some 38,700 free meals to the medical staff and COVID-19 patients and their relatives at the field hospital.
Senior Colonel Tien Thanh Liem also expressed gratitude to the donors for their support, saying that their free good meals gave the medical staff to work harder, contributing to saving lives of COVID patients.